Anna Cushnahan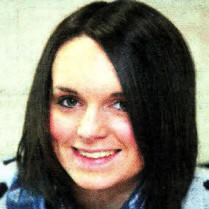 Anna Cushnahan,16, from Lisburn, is a year 13 pupil at St. Louise's College. She was recently in the Star finding out more about journalism.
What do you do on your day off?
I love watching my favourite programmes on TV, playing with my golden retriever Daisy and my Guinea Pig Dude. I also like going shopping and heading out with my friends. For me, a day off is a day of relaxation.
Choose your favourite meal
Stone-baked pizza in the south of France. This is because I had the best pizza I have ever eaten in the town Lara-selle.
Your proudest moment?
When I achieved a total of 11GCSES all ranged between the grades of A*- C. I was very proud as all of the hard work over two years had finally paid off! Also I was able to complete my Drama GCSE a year early and achieved an A along with an extra qualification. I was proud of this too.
Most frightening moment?
That was when I got stuck in what I thought was quick sand while on holiday in France. I had cut my feet with the sharp shells under the sand and started screaming. My dad came to my rescue.
Describe your taste in clothes
I would say quite normal. I like a girly, stylish trend and love to shop in Newlook, Primark and H&M. I love to shop online most of the time, especially from Fashion Union and ASOS.
What would you do if you won Elm?
Go on a major long term vacation around the world, including achieving a dream to stay in Hawaii or Jamaica for a summer with my friends, especially with my best friend Laura. I would pay for all of my friends and family to go. I would also buy my first car, either a Mini Cooper or a Smart car.
Your most embarrassing moment?
When I was getting my certificate for my GCSES I fell walking up the stairs to the stage. Before this happened my friends were joking me around about imagining someone falling. There was a loud bang but luckily the audience didn't see anything. But the people in the wings did.
What music do you like?
Mainly pop and occasional R&B. I like Lady GaGa, Michael Buble and Cheryl Cole.
Favourite sports person?
Torvill and Dean
Describe your best ever holiday.
My best ever holiday was when my family and myself stayed in France and Spain in the summer. We spent a week in a house in France and two weeks in a house in Spain, a few hours from Barcelona. The temperature was around 39° and we spent most days at small coves and headed out shopping.
Greatest remaining ambition?
To achieve three As in my A-levels, attend the university of my choice and go on to study a media related course.
If you were stranded on a desert island what three things would you want with you?
A phone, food and water.
Ulster Star
24/04/2010