CARLA BOYD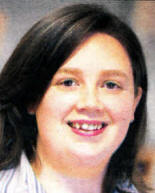 CARLA Boyd from Lisburn works full time in the Halifax and is also a part time Personal Assistant for award winning singer John McNicholl. They have been busy with the launch of John's new album called Someone Like You which includes three duets with Daniel O'Donnell, Margo O'Donnell and Louise Morrissey.
What do you like doing on your day off?
Like most of us ladies I have an addiction to shopping.
If you were to choose your favourite meal what would it be?
I am a fussy eater so it has to be plain and simple. I don't mind where it is as long as the company and craic are good.
Your proudest moment?
Watching John perform at the Country Tonite theatre in Pigeon Forge more famously known as Dollywood.
Describe your taste in clothes
I like casual, comfortable clothes but I like to dress up too so if it blings I'll have it.
What would you do if you won a million pounds?
Treat my family and close friends and then go on a few holidays.
What music do you like?
From a very early age I grew up listening to Daniel O'Donnell and Dominic Kirwan so country has also been apart of my life, but I do like other music like Westlife, Boyzone and Enrique Iglesis.
What sportsperson do you admire?
I am not a big sports fan but Jamie Redknapp gets the thumbs up.
Describe your best ever holiday.
It has to be Nashville, Memphis and Dollywood, it was a dream come true to stand on Legends Corner in downtown Nashville and visit all the sights there and then to visit Elvis' home and then Dolllywood. It was amazing up in the Smokey Mountains. The next dream I want to fulfill is to go on a cruise.
What is your greatest ambition?
As I am sure for most young girl is, to become a mother.
If you could spend a day with a celebrity whom would you choose?
I would rather spend the day with my genuine good friends than with any celebrity.
If you were stranded on a desert island what three things would you want with you?
My Phone, tea bags and perfume.
Favourite things
Car As long as it goes from A - B I don't care
Film Love Actually
Comedian Joe Cuddy the Irish Comedian
CD John McNicholl - You Are No Angel
Book Anything from Cecilia Ahern Actor Hugh Grant
Actress Sandra Bullock
Drink Tea
Ulster Star
16/04/2010