Daniel Henry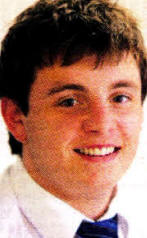 Daniel Henry, 17, is a sixth year pupil at Wallace High School about to start the final year of his A levels. He was recently on work experince with the Star. He says both himself and his two older brothers who also attended Wallace, all love rugby.
What do you like doing on your day off?
Telling Mum that I'll do things, and not doing them. Or just relax with friends.
If you were to choose your favorite meal what would it be, where and why?
Steak with pepper sauce in South Africa as I went there for a rugby tour with Wallace and it was superb.
What has been your proudest moment?
Reaching the Semi-Final of the Schools cup with Wallace this year at Ravenhill.
What was the most frightening moment of your life?
The Semi-Final of the Schools cup.
How would you describe your taste in clothes?
Tempermental.
What would you do if you won a million pounds?
Live in a hot country.
What was your most embarrassing moment?
Too embarrassed to say.
What music do you like?
The only music I don't like is hard metal.
What sports person do you most admire?
New Zealand Rugby Captain Richie McCaw.
Describe your best ever holiday. What would your dream holiday be?
I went on a Rugby tour with Wallace to South Africa last year. It was an unbelieavable experience which I'll never forget. My dream holiday would be to travel around Austrailia.
What is your greatest remaining ambition?
To win the Schools Cup next year - my last chance.
If you could spend a day with a celebrity whom would you choose?
I would have to go for the actor Russell Crowe, he looks like a good lad.
If you were stranded on a desert island what three things would you want with you?
Girls' drinks and Sky Sports. If you're going to be stranded you might as well have a good time.
Favourite things
Car Audi RS
Film Superbad
Comedian Michael McIntyre
CD Eminem's Recovery
Book George Orwell - Animal Farm
Actor Will Smith
Actress Jessica Alba
Drink Apple or Pear Cider
Ulster Star
23/07/2010