ELKE KELLY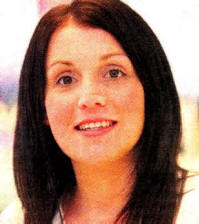 ELKE Kelly, 26, is a N07 Consultant at Boots Bow Street where she has worked for 9 years. She lives in Seymour Hill with her husband Barclay. The team at No7 are currently promoting their makeup and skincare service.
What do you like doing on your day off?
Clean the house, walk dogs, take it easy and catch up with my friends and family.
If you were to choose your favourite meal what would it be, where and why?
Villa Italia. The atmosphere is great and the food is delicious. I always go with the intention of getting something different but end up getting the carbonara as it is gorgeous
What has been your proudest moment?
Getting married a year ago in August.
What was the most frightening moment of your life?
When I had to have a brain scan after having migraines. My mother passed away from something similar.
How would you describe your taste in clothes?
I try not to look too trendy but I like a few essential pieces that look modern.
What would you do if you won a million pounds?
I love holidays so I'd have to book one and then do up the house and sell it. I would treat my family and friends and start a family.
What was your most embarrassing moment?
Trying to work out a customers age. If I get it wrong it is very embarrassing.
What music do you like?
I like a good mix of old and modern. I listen to everything.
What sports person do you most admire?
David Beckham.
Describe your best ever holiday. What would your dream holiday be?
My honeymoon in Tenerife was lovely and relaxing. I would love to go to a remote Island.
What is your greatest remaining ambition?
To have a happy and content family.
If you could spend a day with a celebrity whom would you choose?
Davina McCain. I like reality shows.
If you were stranded on a desert island what three things would you want with you?
No7 moisturiser, husband and food.
Favourite things
Car Fiat 500
Film Time Travellers Wife
Comedian Peter Kay
CD Shania Twain
Book Essential guide on how to look good
Actor Eric Bana
Actress Julia Roberts
Drink Cup of tea
Ulster Star
30/07/2010