Emma Catney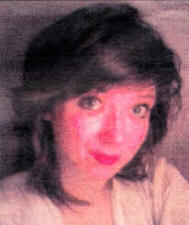 Emma Catney, 16, from Lisburn is a member of Fusion Theatre which will be performing the musical HMS Pinafore in the Island Centre in February. The young performer loves singing, acting, music, books, making things, second hand shops, friends and her family.
What do you like doing on your day off?
Hang around the house and relax because my life is usually quite hectic, especially with the musical that I'm in at the moment.
If you were to choose your favourite meal what would it be, where and why?
Honey chilli chicken with fried rice from the China Inn on a Friday night in front of the fire. How could you not?
What has been your proudest moment?
Either getting full marks in my GCSE art or getting a principal role in HMS Pinafore with Fusion.
What was the most frightening moment of your life?
Jumping off a cliff for paragliding.
How would you describe your taste in clothes?
Unique.
What would you do if you won a million pounds?
Give half to the parents and save the rest.
What music do you like?
Acoustic and lndie.
What sports person do you most admire?
Beth Tweddle. World and European champion and obtained a degree too - that's dedication.
Describe your best ever holiday. What would your dream holiday be?
My best holiday would have to be Italy last summer and my dream would be back-packing around the world for a year.
What is your greatest remaining ambition?
To get to university.
If you could spend a day with a celebrity whom would you choose?
Michael McIntyre. Life would never be the same again.
If you were stranded on a desert island what three things would you want with you?
Robert Pattinson, iPod and some Honey Chilli Chicken.
Favourite things
| | |
| --- | --- |
| Car- | Black Peugeot 207 |
| Film- | Pocaontas, got to love Disney! |
| Comedian- | Frankie Boyle without a doubt! |
| CD - | I'm stuck between three; For Emma, Forever Ago by Bon Iver, Only By the Night by Kings of Leon or Hot Fuss by The Killers. |
| Book- | The Twilight Series or Flowers in the Attic |
| Actor - | Morgan Freeman and Robert Pattinson |
| Actress - | Audrey Hepburn |
| Drink - | Appletiser |
Ulster Star
22/01/2010