GEMMA CHEUNG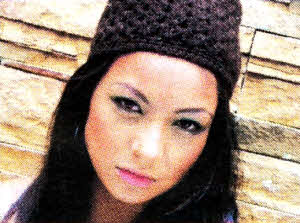 Gemma Cheung, 25, originally from Moira moved to Dubai to become part of the Emirates Cabin Crew. She then moved to Bahrain for a year and now divides her time between Bahrain and Dubai. The ex-gymnast now works as model and has reached the finals of the Bahrain's Top Model competition.
What do you like doing on your day off?
Mainly on my days off I either shop or sun bathe.
If you were to choose your favourite meal what would it be?
My favourite food is definitely Paella. I became a fan at a very young age while I was holidaying in Spain. There is a restaurant in Dubai called More café which is my current favourite place to eat.
What has been your proudest moment?
Getting selected for the Elite squad to Train for the Commonwealth Games when I was a gymnast.
How would you describe your taste in clothes?
I vary from glamorous to borderline Hippie style.
What would you do if you won a million pounds?
Take all my close friends and family on an extravagant all expenses paid holiday and celebrate. Then I would open a clothes boutique to keep myself busy a few days a week.
What was your most embarrassing moment?
Probably when I was a kid and I was in Romania doing gymnastics getting interviewed live on TV and when asked how come I do not look Irish, I responded because one of my Dads is Chinese - instead of one of my parents is Chinese.
What music do you like?
Ranges from pop to House.
What sports person do you most admire?
Nadia Comaneci, she set the standard in Gymnastics.
Describe your best ever holiday.
My best holiday ever was probably the first time I ever went to Ibiza. I think it was because I was still young at the time and never been away with just my friends, everything was very new to me and I guess that made me enjoy and remember it even more. These days my dream holiday would be to go on a road trip through America then onto Hawaii.
What is your greatest remaining ambition?
To be successful in what I choose to do and succeed career wise and be able to live carelessly.
If you could spend a day with a celebrity whom would you choose?
Paris Hilton.
If you were stranded on a desert island what three things would you want with you?
My laptop, and Internet dongle so I could check my emails and one of my close friends.
Favourite things
| | |
| --- | --- |
| Car | Merc SLK |
| Film | Dirty Dancing |
| CD | Susan Boyles album at the moment |
| Book | A Thousand Splendid Suns |
| Actor | Jude Law |
| Actress | Sandra Bullock |
| Drink | Corona |
Ulster Star
19/03/2010