Header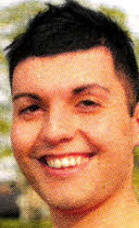 Jay McCloskey, 24, is an International Burlesque performer. He currently takes burlesque classes in Hillsborough Village Centre.
What do you like doing on your day off?
Any time I get off from my day job as a Divisional Therapist is invested in my work in Burlesque.
If you were to choose your favourite meal what would it be, where and why?
I love Seafood, so a hot beach somewhere in the Caribbean.
What has been your proudest moment?
Performing at performance artist Annie Sprinkle's Green wedding in Zagreb' Croatia
What was the most frightening moment of your life?
While I was performing at Hurly Burly a Burlesque show in Derby, I wasn't feeling well and the stage lights were so bright I felt so hot I was pretty sure I was going to pass out - it was the longest four minutes of my life.
How would you describe your taste in clothes?
With regard to stage clothes over the top opulence mixed with trashy chic' but in everyday life anything goes.
What would you do if you won a million pounds?
I would invest some of it in various art projects such as 'The Exotic World Museum' Las Vegas and the one soon to be in the UK. I'd put on a high end Burlesque Show in the West End and buy a club in Belfast and run it as a Burlesque bar and run my own nights. Belfast needs more live Burlesque shows.
What was your most embarrassing moment?
Forgetting to remove some of my costume on stage.
What music do you like?
I have a really eclectic music taste so I'm into anything. At the moment I'm loving Kelis' new album 'Flesh Tone'.
What sports person do you most admire?
Michael Phelps.
Describe your best ever holiday. What would your dream holiday be?
I have already had my dream holiday in Las Vegas back in 2008 for 'The Burlesque Hall of Fame Event'. I had just started out performing and being able to attend a show on that level was epic for me. It set the bar pretty high and that was the level of Burlesque I wanted to work toward in my own style. I also got to meet some pretty amazing peopIe out there such as Kitten DeVille, Amber Ray and Burlesque Legends Dixie Evans' Tempest Storm and Tura Santana to name a few.
What is your greatest remaining ambition?
To be internationally recognized for performing in Burlesque and to win awards for my performance work.
If you could spend a day with a celebrity whom would you choose?
Lindsay Lohan. The more controversial her personal life gets the more I pay attention to her.
If you were stranded on a desert island what three things would you want with you?
My Ipod, a really good book and a lip balm.
Favourite things
Car A Bright Red Dodge Viper
Film Showgirl
Comedian Margaret Cho
CD Kelis 'Flesh Tone'
Book Jenna Jameson's autobiography
Actor Jared Leto
Actress Tura Santana
Drink Champagne or Mojitos
Ulster Star
25/06/2010