Justin Guiney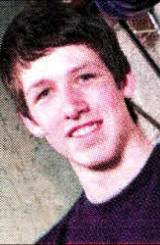 LOWER Ballinderry apprentice Justin Guiney, 20, has been recognised at Northern Ireland's Apprentice of the Year Awards 2010. He was shortlisted for the Apprentice of the Year award at a glittering ceremony at Belfast's Europa Hotel. Justin is following an Apprenticeship in Polymer Processing and Signmaking and is employed by Clarehill Plastics in Moira. He attends South Eastern Regional College, where he is completing his Level 2 NVQ and National Certificate
What do you like doing on your day off?
I like to gather up a few friends and just go for a random day out and just have a good laugh.
If you were to choose your favourite meal what would it be, where and why?
My favourite meal is steak and homemade chips, with peppered sauce. I would have it at home with my family because I prefer my mum's cooking.
What has been your proudest moment?
A finalist in the Apprentice of the Year 2010.
What was the most frightening moment of your life?
Climbing over the edge of the Europa Hotel's roof, and abseiling down the side for N1CFC.
How would you describe your taste in clothes?
Pretty decent - I think I would be the guy who would go out and be very fussy but if I see something I like, I would buy it without much contemplation on price.
What would you do if you won a million pounds?
Finally get the new car I've been after for the last four months.
What was your most embarrassing moment?
Having Stephen Nolan call me baby face on the stage at the Apprentice of the Year Awards.
What music do you like?
A bit of everything, country, classical, rock, indie, emo, dance, pop, R&B and metal.
What sports person do you most admire?
Ryan Giggs, from when he got possession after Patrick Veira gave the ball away and then ran through the Arsenal team from the half way line to blast home the winning goal against Arsenal in the 1999 FA cup semi final.
Describe your best ever holiday. What would your dream holiday be?
Going on my first holiday with only my friends for my 18th, quite a wild and expensive week. My dream holiday would be just to relive that holiday.
What is your greatest remaining ambition?
To open up my own Specialist Engineering company, but I think that's still several years away yet.
If you could spend a day with a celebrity whom would you choose?
Linkin Park front man Chester. They made such a difference to my teenage years.
If you were stranded on a desert island what three things would you want with you?
Food, fresh water, and a book
Favourite things
Ulster Star
04/06/2010