KATHRYN McCANN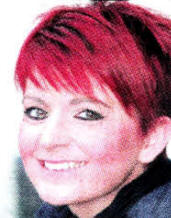 Kathryn McCann, 20, from Lisburn is currently a third year student in Queen's University Belfast studying Law with Politics. She loves music, fashion, politics, reading books/newspapers and socialising and hopes to have a career in political journalism.
What do you like doing on your day off?
With a full time degree and two jobs I am always very busy, so an ideal day off would be spent lazing around the house, reading and watching fluffy American sitcoms. A day spent shopping would also be ideal.
If you were to choose your favourite meal what would it be?
Something Italian, perhaps Lasagne. I wouldn't mind where, as long as I was with interesting company and having good craic.
What has been your proudest moment?
Getting my acceptance letter from Queens, and knowing that I had achieved exactly what I wanted so far in life.
What was the most frightening moment of your life?
I have an aversion to exams so my most frightening moment occurs any time before an exam is about to take place
How would you describe your taste in clothes?
With working in retail I try to stay on top of new fashion trends, however I'd say my own personal. style would be quite rock-chick with an emphasis on accessories and a rather large and unhealthy fondness for shoes.
What would you do if you won a million pounds?
I'd go travelling around the world, buy an apartment in London, and a couple of designer shoes and bags. I'd also give some to Action Cancer and put the rest away for future education.
What was your most embarrassing moment?
Probably when I tripped over my own feet and fell in the middle of a Bow Street Mall packed full of Saturday shoppers.
What music do you like?
I love music and have quite an eclectic taste, everything from chart pop and electro to rock and heavy metal. My favourite bands are Nickelback, ACDC, Yeah Yeah Yeahs, Biffy Clyro and Kings of Leon.
What sports person do you most admire?
Brian 0' Driscoll.
Describe your best ever holiday. What would your dream holiday be?
My best holiday was a Royal Carribean Cruise around Spain, France and Italy, waking up in a different city every day was amazing, one day I was in Monaco, the next day I was in Florence. My dream holiday would be to travel around the world, exploring new cities and meeting new people.
What is your greatest remaining ambition?
To have a successful career which I love and enjoy doing, which allows me to travel but also to live and work in a big city such as London.
If you could spend a day with a celebrity whom would you choose?
Chad Kroeger, lead singer of Nickelback.
If you were stranded on a desert island what three things would you want with you?
Blackberry, IPOD, best friend.
Favourite things
| | |
| --- | --- |
| Car | Open top Audi TT |
| Film | Veronica Guerin |
| Comedian | Alan Carr |
| CD | Nickelback, The Long Road |
| Book | PS I Love you by Ceciila Ahern |
| Actor | Johnny Depp |
| Actress | Sarah Jessica Parker |
| Drink | Magners |
Ulster Star
26/02/2010