Nicola Donald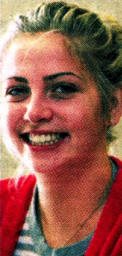 Nicola Donald, 21, from Lambeg has just graduated with a degree in media. She is currently living in Leeds but during her summer break she came back to visit her family as well as completing work experience at the Star.
What do you like doing on your day off?
Shop a lot and I love going out on the weekend with my friends
Your favourite meal?
I am a big steak and chips fan so I would go to a little restaurant I love in Spain called the Pantagonia Steak House and reserve the table beside the window that looks over the sea.
Proudest moment?
Whenever I graduated and got to do the (very American) throwing up of the motorboards I was so proud I didn't end up hitting myself in the face.
Most frightening moment?
Going out for the day with my friend's family to the butterfly farm and being too embarrased to say I was terrified of butterflies.
Your taste in clothes?
Very mood dependant, sometimes I like to be girly and somedays I just like to be comfy, I think we all have those days.
What would you do if you won £1m?
Scream then go out and spend all the money I have in the bank at that moment as it would get filled again.
Most embarrassing moment?
Meeting Lulu for her book signing and being the assigned photographer for my mum's picture with her and not getting the camera to work, my face went bright red in front of the entire shop and Lulu feite so sorry for me she got up and gave me a hug.
What music do you like?
All sorts really, ideally I would like to say something cool here but im mostly into chart music and songs I can dance too.
What sports person do you most admire?
Not being a very pro-active person I don't see myself following in any sports person's footsteps but I do think Usain Bolt is very talented and he has the name to prove it.
Describe your best ever holiday.
My best ever holiday was when I went to Australia for a month when I was younger and I would like to go back to Sydney at New Year's Eve as apparently the atmosphere is amazing at that time and then probably travel around Oz and visit Penguin Island and also go to Fiji and stay in a beach hut-nothing too expensive!
Greatest ambition?
I have always wanted to swim with dolphins but I never have so I guess I should try and conquer it soon.
Celebrity to spend a day with?
Beyonce so she could teach me how to dance so I don't keep making a fool of myself trying to.
Three things to take to a desert island?
My Blackberry, makeup wipes and a brush - not very practical but I think they are important in my life
Favourite things
Car - Mini convertable
Film - Mrs Doubtfire
Comedian - Michael McIntyre
CD - Marina and the Diamonds album
Book - Wuthering Heights
Actor - Adam Sandler
Actress - Keira Kneightly
Drink - Mojito cocktail
Ulster Star
03/09/2010