PAT RENNIX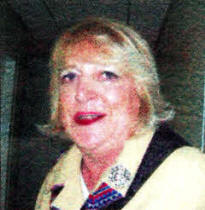 PAT Rennix, 58, from Lisburn is the leading lady of Hillsborough Drama Group's Sam Cree play 'Don't tell the Wife', a comedy set in Belfast, which will be staged on Saturday April 10 in the Pastoral Centre on Chapel Hill at 7.30pm.
What do you like doing on your day off?
Cycling and shopping. I get bored easily.
If you were to choose your favourite meal what would it be, where and why?
Seabass or monkfish in Shu on the Lisburn Road. It has a great atmosphere.
What has been your proudest moment?
The birth of both my children.
What was the most frightening moment of your life?
White water rafting in Bali.
How would you describe your taste in clothes?
I would say quirky.
What would you do if you won a million pounds?
Laugh uncontrollably and then scream.
What was your most embarrassing moment?
Jumping into a car I thought was my friend's - but wasn't. That was very embarrassing.
What music do you like?
Mostly everything except county and Western.
What sports person do you most admire?
George Best.
Describe your best ever holiday. What would your dream holiday be?
My best every holiday was in Mauritius - soft white sand and very relaxing. I would love to spend a year in Thailand.
What is your greatest remaining ambition?
To sky dive.
If you could spend a day with a celebrity who would you choose?
Johnny Depp.
If you were stranded on a desert island what three things would you want with you?
Mobile phone, crate of red wine, Johnny Depp.
Favourite things
| | |
| --- | --- |
| Car | SLK Mercedes |
| Film | The Bucket List |
| Comedian | Eddie Izzard |
| CD | Mumford and sons |
| Book | Bill Bryson - Notes from a big country |
| Actor | Alan Rickman |
| Actress | Judi Dench |
| Drink | Gin and tonic |
Ulster Star
09/04/2010