Samantha Weightman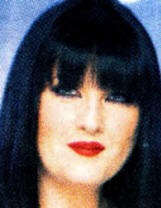 MAKE-UP artist Samantha Weightman (34) from Carryduff clinched the title of 'Winner of the Oonagh Boman Makeup School of Excellence Awards' and was awarded at the recent Magners Light Spring into Summer event at St George's Market. Samantha's work has appeared on television, billboards, catwalks, on film and in magazines through high profile advertising campaigns and TV shows.
What do you, like doing on your day off?
Catching up on sleep
If you were to choose your favourite meal what would it' be, where and why?
Mussels followed by Scallop linguini, washed down with plenty of wine, at Domenico's on The Shore in Leith, Edinburgh. This is where my boyfriend took me on our first date.
What has been your proudest moment?
Winning the 2010 Oonagh Boman Make-up School of Excellence award.
What was the most frightening moment of your life?
When I jumped out of a plane for a sponsored skydive. I honestly thought I would love it and was at ease and having a laugh with the others on the plane but the second I started falling I lost it. The poor man I was harnessed to was attacked mid air.
How would you describe your taste in clothes?
Right now it's all about comfortable loose maternity wear. Little dresses and boots for now and maxi dresses and sandals.
What would you do if you won a million pounds?
Buy a big house, a fast car, a new wardrobe and a long holiday.
What was your most embarrassing moment?
See above at the most frightening moment of my life.
What music do you like?
I have very varied taste and like a bit of everything, but I have to confess to being a sucker for anything camp or soppy
Describe your best ever holiday. What would your dream holiday be?
My best holiday started off as my worst holiday. After going to visit an old friend in California, we fell out and I found myself abandoned at the start of a three week trip with nowhere to stay, no transport and very little money. I ended up getting a free upgrade to a Mustang at the car hire place and staying with a friend of a friend I had never met in San Diego and having the time of my life. He's a gorgeous, rich, playboy and we spent all our time sunbathing by his pool all day and partying all night. My dream holiday now would be a luxurious resort in the Caribbean.
What is your greatest remaining ambition?
To win an Oscar for best make-up
If you were stranded on a desert island what three things would you want with you?
My entire make-up kit, my iPod, and my lovely boyfriend Cohn.
Favourite things
Car: Anything fast and convertible
Film: It's a Wonderful Life
Comedian: Billy Connolly
CD: Blondie's Heart of Glass
Book: The folk of the Faraway Tree' by Enid Blyton.
Actor: Robert Carlisle
Actress: Sandra Bullock
Ulster Star
28/05/2010