Sean-Paul Gilbride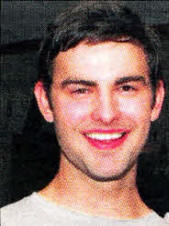 LOCAL singing talent Sean-Paul Gilbride, 20, reached the semi-finals of Northern Ireland's U-Factor competition. Sean-Paul, who is from Black's Road in Dunmurry, is a multi-talented young man. He has modelled on the Belfast Fashion Week catwalk and performed on stage in the Waterfront Hall.
What do you like doing on your day off?
Horse riding. I recently took up kick boxing, gym, designing. Mountain walking, cooking.
If you were to choose your favourite meal what would it be, where and why?
AM / PM -can't beat a good bit of steak but Granny's scones wins every time.
What has been your proudest moment?
There have been many times in my life when I have experienced self pride and one would be singing in Belfast's Waterfront Hall. Another was singing for president Mary McAleese.
What was the most frightening moment of your life?
I was recently robbed on a bus.
How would you describe your taste in clothes?
Simple, practical and classic style — I like to think anyway.
What would you do if you won a million pounds?
Donate to Sergeant Cancer. Buy my granny a caravan by the sea. Buy the love of my life back - my childhood horse. Bribe Simon or Louis for a recording contract. Travel the world share new experiences. Voluntary work with a children hospice in Kenya. Buy a block of driving lessons and I think by the time I pass I will have run out of my million.
What was your most embarrassing moment?
Do you really want to know - Took me 20 years before I lost control of my bladder and I wet myself in Glasgow. Lets just say I had a very long wet walk home.
What music do you like?
Eclectic...Josh Groban, Imogen Heap, Boyz 11 Men, Stevie Wonder, Bryan Adams, John Mayer, Girls Aloud but then again it might just be for their music videos.
Describe your best ever holiday. What would your dream holiday be?
Best holiday, meeting Tommy Hilfiger in NYC, G Q magazine, Gen Art, Ice skating in central park, carriage ride around central park during the winter. Dream holiday is to go back to NYC.
If you could spend a day with a celebrity whom would you choose?
Simon Cowell/ Louis Walsh asking them from 9pm -5pm.
If you were stranded on a desert island what three things would you want with you?
A friend, they can share the experience. My watch. You never know who I might bump into, which would take me on to the third essential item "my prada aftershave".
Favourite things
| | |
| --- | --- |
| Car | First things first I need my driving test |
| Film | Into The West |
| Comedian | Alan Carr |
| CD | Josh Groban |
| Book | Beautiful Fall |
| Actor | Kevin Costner |
| Actress | Julia Roberts |
| Drink | Jameson |
Ulster Star
08/01/2010