Tamlyn McNeilly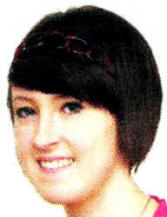 Tamlyn McNeilly, I6, from Seymour Hill is a pupil at Dunmurry High School. She was in the Star recently for work experience.
What do you like doing on your day off?
I spend my day off with my friends or my boyfriend. I like shopping and going to the cinema and concerts.
If you were to choose your favourite meal what would it be, where and why?
My mum's cooking will always be best. My favourite meal is the lasagne she makes.
What has been your proudest moment?
When my mum passed her Dental Nurse Exam, because she had started doing reception and was offered the course. She worked so hard and studied nearly every night. I was proud of her.
What was the most frightening moment of your life?
That was in December '09. I was in Mandela Hall to see a band. My friends and I were-at the front like we had been the previous times but the gig was so rough I thought I was going to be crushed. Eventually I was in so much pain I was pulled out and taken to the medical room. I had internal bruising.
How would you describe your taste in clothes?
Quite normal. I like to shop in New Look, DVB, Primark, H&M and Peacocks.
What would you do if you won a million pounds?
I would give some to my mum, dad, nanny and brother. I would take my best friends on a holiday somewhere exotic and keep the rest.
What was your most embarrassing moment?
When I went to get my tattoo. I had eaten a good meal before, as advised, and was well prepared for the pain. My tattoo artist told me to take deep breaths in and out as he began the outline. About five minutes in I felt sick. My head was dizzy and I couldn't see or hear properly. I had to stop to recover. I felt so embarrassed, my first tattoo and I couldn't stick five minutes. I managed to survive the two hour sitting, and my tattoo looks great, it was worth the pain.
What music do you like?
My favourite singers are Britney Spears and Lady GaGa.
Describe your best ever holiday. What would your dream holiday be?
My best holiday was when I was chosen to go to America by the NICE organisation. I stayed with an American family in New York. I was invited back the next year and went on holiday to Long Island with the family. My dream holiday would be somewhere in Spain with my friends.
What is your greatest remaining ambition?
To pass all my GCSE exams, mainly my English and ICT, pass my A-Levels and get onto a good University course.
If you were stranded on a desert island what three things would you want with you?
My phone, food and my family.
Favourite things
| | |
| --- | --- |
| Car: | Ferrari. |
| Film: | Bridget Jones' Diary |
| Comedian: | Matthew Perry |
| CD: | The Fame/The Fame Monster. |
| Book: | Twilight Saga. |
| Actor: | Colin Firth, Robert Pattinson, Taylor Lauther. |
| Actress: | Kristin Stewart. |
| Drink: | Dr Pepper. |
Ulster Star
19/02/2010