Trevor Martin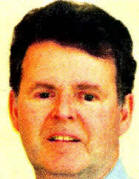 Trevor Martin, 60, has been practising Reiki Healing and teaching for three and a half years. He recently attended courses at Lisburn Enterprise Centre and hopes to use some of the lessons learned to expand his work. He is a member of a nationwide, school (trained by Reiki Evolution).
What do you like doing on your day off?
Rainy day; I like to repair things, or create things on the computer e.g. web sites. Also I love online gaming. Sunny day; I like to garden or take our two dogs for a walk. I love places like our forest parks or to walk along the shore line.
If you were to choose your favourite meal what would it be, where and why?
A lamb based dish, especially roast lamb, served at home with friends or family.
What has been your proudest moment?
Watching the awards the single mums and other students with disadvantages or life difficulties got when I attended their annual prize giving ceremony in my role as Chairman of East Antrim Institute of Further and Higher education. It was always both inspiring and humbling.
What was the most frightening moment of your life?
Frightening in hindsight, when my heart stopped in hospital, (you do not die right away). Whilst I could not move, my head position allowed me to see the straight line on the heart monitor and hear the commotion as well as them using the defibrillator. Third time lucky as they say and then I saw the first blip on the trace.
How would you describe your taste in clothes?
Conservative, I am not so into clothes but thanks to my Wife and Step-daughter, I have some lovely ones.
What would you do if you won a million pounds?
Take more holidays as meeting people and memories are important. Also I would give some to my Step-daughter.
What was your most embarrassing moment?
When I was younger, I was walking near the City Hall in Belfast when a very attractive girl came towards me on the pavement. I was so engrossed in looking at her that I walked straight into a nearby lamppost.
What music do you like?
Mainly classical now but I have my moments of rock still. Remember that I was brought up with the Beatles and the Rolling Stones etc.
Describe your best ever holiday. What would your dream holiday be?
It was Barbados a few years ago. We got up at 6 in the morning, walked in our bare feet straight out of the French windows onto a very sunny lawn, then warm beach and then into a warm bath like sea. The only other place I would like to visit would be Hong Kong.
What is your greatest remaining ambition?
I would like to continue to help to make a difference especially by helping others to achieve the desire to help other people.
If you could spend a day with a celebrity whom would you choose?
The Dalai Lama.
If you were stranded on a desert island what three things would you want with you?
I would like a box of tools, a range of vegetable seeds and a solar powered radio with long wave.
Favourite things
| | |
| --- | --- |
| Car: | My Lotus Elan |
| Film: | A Good Year (2006) |
| Comedian: | Tommy Cooper |
| CD: | Mozart Piano concertos |
| Book: | Smiley's People by John LeCarre |
| Actor: | Alec Guinness |
| Actress: | Dame Judi Dench |
| Drink: | Whisky |
Ulster Star
15/01/2010