Header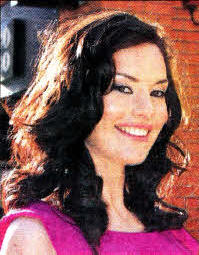 Zara Shaw, 24, from Ballynahinch, works in Lisburn and is also a successful model, who will once again be hitting the catwalk for Fashionweek which runs until March 14 in the Old Northern Bank Building in Belfast's Waring Street.
What do you like doing on your day off?
On my day off I love shopping and getting my hair and nails done.
If you were to choose your favourite meal what would it be, where and why?
I enjoy Indian food and my favourite restaurant is Spice in Lisburn - delicious.
What has been your proudest moment?
One of my proudest moment this year was when I won Model of the Year at my agency, ACA.
What was the most frightening moment of your life?
Around five years ago I had a serious car accident. I hit black ice and rolled my car over four times before the car ended up on its roof - it really scared me.
How would you describe your taste in clothes?
Expensive.
What would you do if you won a million pounds?
If I won a million pounds I would buy a house in LA and emigrate as I love the lifestyle over there.
What was your most embarrassing moment?
I attended my boyfriend's work Christmas dinner and I had a few too many and fell down the stairs -very embarrassing.
What music do you like?
I enjoy a mixture of music. I would listen to dance, R&B and house.
Describe your best ever holiday. What would your dream holiday be?
I have been to many nice places but I really enjoyed LA and Las Vegas. My boyfriend and I travelled around LA and then flew to Vegas for three weeks. I've always dreamed of going to Polynesia Islands.
If you could spend a day with a celebrity whom would you choose?
I would love to spend the day with Victoria Beckham, she has been my style icon since I was at school.
If you were stranded on a desert island what three things would you want with you?
A strawberry daiquiri, Alan Carr as I find him hilarious and a mixture of music so I could lie in the sun and chill out.
My Favourite
| | |
| --- | --- |
| Car: | White BMW 3-Series |
| Film: | The Hangover |
| Comedian: | Alan Carr |
| CD: | Cheryl Cole's album, 3 words |
| Book: | I don't read books, just lots of magazines! |
| Actor: | Colin Farrell |
| Actress: | Jessica Alba |
| Drink: | Strawberry Daiquiri |
Ulster Star
12/03/2010