Bryan Craig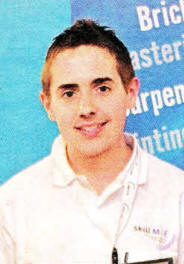 BRYAN Craig, 20, a local refrigeration apprentice at SERC Lisburn Campus who has been chosen as a squad members of Team UK for WorldSkills London 2011. He won a silver medal at the national SkillFRIDGE finals last year. WorldSkills is the world's largest international skills competition where young people from across the globe compete to become the best of the best in their chosen skill. The finals will take place in the ExCeL arena, London from 5-8 October.
What do you like doing on your day off?
Relaxing and having a bit of craic with the lads or doing a gym workout.
If you were to choose your favourite meal what would it be, where and why?
Spurs Steakhouse Victoria Square, Fillet steak. It is some meal.
What has been your proudest moment?
Succeeding at the Squad UK entrance test.
What was the most frightening moment of your life?
The bar man said 'no more pints'.
How would you describe your taste in clothes?
Fashionable.
What would you do if you won a million pounds?
New house, car and support my family.
What music do you like?
R'N'B or dance.
What sports person do you most admire?
Ronaldino.
Describe your best ever holiday?
Amsterdam - it has a very relaxed atmosphere and is great for some chilled time.
What is your greatest remaining ambition?
To qualify at level 3 NVQ 8 and move to New Zealand.
If you could spend a day with a celebrity whom would you choose?
Megan Fox - seems like a really nice girl.
If you were stranded on a desert island what three things would you want with you?
A boat, petrol, engine and food.
Favourite things
Car: Pagani Zanda F:
Film: Old School
Comedian: Jimmy Carr
CD: Nickleback album
Actor: Will Farrell
Actress: Megan Fox
Drink: Guinness
Ulster Star
25/02/2011