Cassie Galloway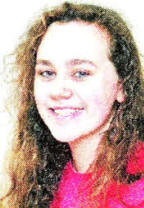 CASSIE Galloway, 15, is a pupil at Laurelhill Community College and recently spent a week on work experience at the Star seeing what it's like being a journalist.
What do you like doing on your day off?
I mostly like to sleep in and have a lazy day. I try to meet up with my friends and spend the day with them if I can. I try to catch up on reading because I always buy loads of books and usually forget to read them.
If you were to choose your favourite meal what would it be, where and why?
Mine would be pasta or spaghetti that my dad makes. 1 have always had it as a kid and in my personal opinion I think my dad can make that best.
What has been your proudest moment?
When I took part in 'Teenage Kicks' which was a scheme to get more schools to dance to keep fit. Our PE class got involved with this and we had to dance on stage with all the parents watching. I have never liked doing anything that involved going on stage so when the big performance night was over, I felt proud that I accomplished what I thought was such a challenge.
What was the most frightening moment of your life?
My most terrifying moment would be when I was in tie house by myself and whilst I was in my room a giant spider crept out of no where and was sitting by the door.
How would you describe your taste in clothes?
I usually just wear jeans and a t-shirt so I think my taste in clothes is simple.
What would you do if you won a million pounds?
I would spend some of it helping my mum and dad pay off bills or the mortgage on the house. The rest I would use for whatever I want and for the future like university.
What was your most embarrassing moment?
It was in Greece when I went to my hotel room and kept knocking on the door waiting for someone to let me in. I kept hearing noises but was wandering why no one would open the door. That is when I realised I was on the wrong floor and I ended up running away in embarrassment.
What music do you like?
I like a lot of stuff but my favourite genre is rock music and alternative. My favourite bands would be Foo Fighters, My Chemical Romance and Panic at the Disco.
Describe your best ever holiday. What would your dream holiday be?
It was this year because I stayed with my aunt and uncle and my two cousins. I stayed there for 6 weeks and I spent it going camping in Cardiff for a week and going to Zante, Greece for two weeks. The rest of the time I spent in Bradford at their house. My dream holiday would be going to see Japan.
What is your greatest remaining ambition?
I would love to have a career in art and hopefully becoming an illustrator. I also like journalism so it would be great if I could find a career that links journalism with art.
If you could spend a day with a celebrity whom would you choose?
I would pick Dave Groh! (Lead singer in Foo Fighters) because he was the drummer in Nirvana.
If you were stranded on a desert island what three things would you want with you?
A life-time supply of food and water, a solar powered ipod if they ever invent one and a friend to keep me company.
Favourite things
Car: A camper van.
Film: Hot Fuzz.
CD: 'A Fever You Can't Sweat Out' by Panic of the Disco'
Book: The Shining by Stephen King.
Actor: Johnny Depp
Actress: Keira Knightly
Drink: Dr Pepper.
Ulster Star
23/12/2011