Clare Cromie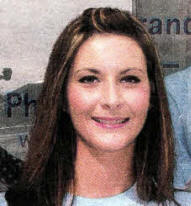 CLARE Cromie, 27, from Lisburn is a consultant for Clarins. She recently organised a charity wax raising over £3000 for Marie Curie.
What do you like doing on your day off?
I love to get out for a nice walk, go for some lunch and maybe do a bit of shopping.
Choose your favourite meal
I have two favourite places and I couldn't choose between the two. Cafe Bistro in Lisburn Square - I love their garlic bread and chicken fajitas and Nandos in Belfast, they both have a great laid back friendly atmosphere.
What has been your proudest moment?
I recently organised a fund raising event to raise money for Marie Curie. For the event we waxed 25 (very brave) men in the window of the Clarins Skin Spa in Debenhams. Through sponsorship and public donations we raised an amazing £3,300
Most frightening moment of your life?
On the way home from Florida our plane had a broken engine part and then when it was finally fixed there was a massive thunderstorm that knocked all the electricity out in the airport. By the time I got on the plane I was a nervous wreck.
Describe your taste in clothes
Stylish but I find it hard to keep out of my Abercrombie hoodies.
What would you do if you won Elm?
That is something I talk about everyday. I would take my boyfriend and family on a holiday, then I would open a Spa and gym facility of my own and hopefully get to retire at a young age and enjoy life.
Most embarrassing moment?
There are far too many to mention but one would be fainting in Debenhams in front of the whole cosmetic department which resulted in being carried out by ambulance crew (for the second time in few months).
What music do you like?
80's, Take That, anything that I can sing along to really.
What sports person do you admire?
I'm not into sport at all but Rory Mcllroy has done so well for himself and he's only in his 20's.
Describe your best ever holiday.
I absolutely love Florida. It has everything - shopping, theme parks, water parks and also you can take time out to relax and enjoy the sunshine. My dream holiday would be to go to Florida and then on to the Caribbean for a week afterwards.
Greatest remaining ambition?
To open a beauty therapy training school and pass my knowledge and skills onto others.
If you were stranded on a desert island what three things would you take?
My boyfriend James, my mobile (to phone mum) and moisturizer (cant live without it)
Favourite things
Car: Peugeot RCZ
Film: The Notebook
Comedian: I'm not into comedians (I'm told that part of my brain isn't working!!)
CD: 80's Power Ballads
Book: I'm a magazine girl!
Actor:Jake Gyllenhaal
Actress: Julia Roberts
Drink: Rain Sour cocktail
Ulster Star
06/05/2011