DEBBIE Abbott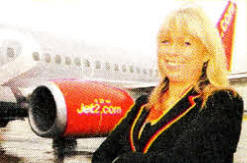 DEBBIE Abbott, 46, from Hillsborough is Airline Manager for leisure airline Jet2.com, based at Belfast International Airport. She loves animals, rugby and home cooking.
What do you like doing on your day off?
I try to use all my work leave days to travel, as Jet2.com has so many destinations to enjoy. If I have a day off at home I like to de-stress and go to the Slieve Donard Spa for some relaxation and admire the amazing views of the Mourne Mountains in their Jacuzzi.
If you were to choose your favourite meal what would it be, where and why?
Always Sunday lunch in The Parsons Nose in Hillsborough. I do travel a lot with my job so if in Murcia, Palma or Alicante, my ultimate favourite meal is Tapas.
What has been your proudest moment?
Watching Ireland lift the Grand Slam in Cardiff. I was in the front row, nothing beats that day. My colleague Wyn gave my husband Andy and I the tickets as a surprise.
What was the most frightening moment of your life?
I'm not really frightened of anything. I love a challenge.
How would you describe your taste in clothes?
I'm certainly not a shopaholic, but I do enjoy purchasing clothes which I can wear on holiday. Comfy shoes are a must and I mix and match so I'm being practical.
What would you do if you won a million pounds?
Enjoy lots of sun holidays and visit all of our exciting destinations. would also open a cat and dog refuge at my farm in Hillsborough.
What was your most embarrassing moment?
Years ago I swam for Ireland and on a televised race I dived in and my costume split at the front. I didn't win the race but got a bit of attention for all the wrong reasons.
What music do you like?
Anything that I can relate to, lyrics draw you in and I always like songs which remind me of holidays. Simply Red is one of my favourite bands. I've even travelled over to Milan to see them in concert.
What sports person do you most admire?
The Boys in Ulster Rugby, Chris Henry, Paul Marshall they all are in my view fantastic role models for young people.
Describe your best ever holiday. What would your dream holiday be?
My dream holiday would be charter one of our aircraft and take all the people I care about to any of our 11 destinations from Belfast International Airport.
What is your greatest remaining ambition?
To see a cure for Alzheimer's. And a cruise on Oasis of the Seas.
If you could spend a day with a celebrity whom would you choose?
I'm not interested in celebrities, the CEO of Philip Meeson is far more interesting and entertaining.
If you were stranded on a desert island what three things would you want with you?
My Mum, my cats and my husband. Family is everything! It would be better though if the island had a spa.
Favourite things
Car: Anything that gets me about in the snow.
Film: Shawshank Redemption
Comedian: James Young
CD: My Genius Mixes on my iphone Book: The Bible
Actor: Liam Neeson
Actress: Meryl Streep
Drink: The first cup of coffee of the day
Ulster Star
20/09/2011