Ellie Cummins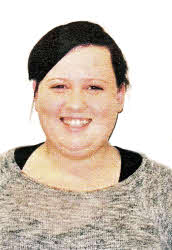 ELLIE Cummins, 18, is in the Lisnagarvey Operatic Society's Christmas pantomime Sleeping Beauty which runs in the Island Hall until December 10.Tickets, priced £9, are on sale from the Box Office on 9250 9254.
What do you like doing on your day off?
On my day off I love to go horse-riding.
If you were to choose your favourite meal what would it be, where and why?
Chicken Goujons from Lizzie Drakes in the Maze is really lovely.
What has been your proudest moment?
Becoming Head Girl at school made me feel very proud.
What was the most frightening moment of your life?
When I almost stood on a frog it frightened me.
How would you describe your taste in clothes?
Comfort is the key for me.
What would you do if you won a million pounds?
Split it with my mum.
What was your most embarrassing moment?
When I was dancing at the EMAs and my trousers fell down. I was very embarrassed.
What music do you like?
Pop music.
What sports person do you most admire?
David Beckham comes to mind
Describe your best ever holiday. What would your dream holiday be?
To go to Harry Potter land.
What is your greatest remaining ambition?
To become a doctor.
If you could spend a day with a celebrity whom would you choose?
I would choose Kim Kardashian.
If you were stranded on a desert island what three things would you want with you?
My mum, my phone and food.
Favourite things
Car: Ibiza Bocehenegra
Film: Tangled Comedian: Lee Evans
CD: Steps
Book: My Sisters Keeper
Actor: Liam Neson
Actress: Keira Knightly
Drink: Coffee
Ulster Star
09/11/2011