Emma Beggs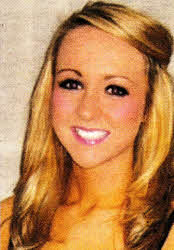 EMMA Beggs, 18, from Lisburn has made it into the finals of the Face of Northern Ireland Beauty Competition which takes place at the Bannville House Hotel in Banbridge next month. She recently completed A-Levels at Fort Hill College to study to be a primary school teacher.
What do you like doing on your day off?
I enjoy meeting up and going out with my friends and family. I love keeping myself busy by going shopping, exercising, out for dinner and to the cinema.
If you were to choose your favourite meal what would it be, where and why?
It would have to be a Sunday roast dinner at my Granny and Granda's house, it's always delicious.
What has been your proudest moment?
Passing my driving test the first time.
What was the most frightening moment of your life?
When I was a child and I became ill with I bronchitis/pneumonia and had to be rushed into hospital.
How would you describe your taste in clothes?
It changes all the time, just depending on what I feel like and what the weather's like. At the minute I love bright, summery, patterned clothes.
What would you do if you won a million pounds?
I would give some of it to charities, get myself a new car and pay for a family holiday to a really nice place like Dubai or one of the Caribbean Islands.
What was your most embarrassing moment?
When I was show jumping on my horse, she decided to stop before the jump and sent me flying over her head onto the poles.
What music do you like?
I like anything really - pop/chart music, RnB/Hip hop and dance music.
Describe your best ever holiday.
My favourite holiday has to be when I went to Orlando, America when I was a child. It was an amazing, magical experience and I enjoyed getting to go to all of the theme parks, the water parks and having an airboat ride in an alligator infested lake. My dream holiday would be a relaxing break to one of the Caribbean Islands to soak up the sun and go swimming in the clear blue seas.
What is your greatest remaining ambition?
To be happy and successful in life, and become a primary school teacher.
If you could spend a day with a celebrity whom would you choose?
Katy Perry
Favourite things
Car: White Audi TT
Film: White Chicks
Comedian: Alan Can
CD: Beyonce - I am Sasha Fierce
Book: I like to read true life stories.
Actor: Adam Sandler
Actress: Jennifer Aniston
Drink: Mixed fruit smoothie
Ulster Star
26/08/2011