Header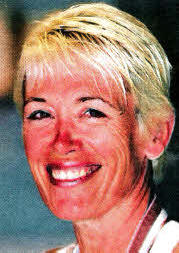 Fiona Boal is the proprietor of the new Maud's Ice Cream shop in Antrim Street in Lisburn. The busy mum of two is originally from Cork but now lives in Newtownards. She is enjoying the challenge of running the ice cream business.
What do you like doing on your day off?
Trying to catch up with all the usual housework and friends.
If you were to choose your favourite meal what would it be, where and why?
It's really hard to beat good Irish beef, so anywhere as long as it is as reared as humanely possible.
What has been your proudest moment?
Other than having my two children, opening my new Maud's Ice Cream shop in Antrim Street within 10 days of getting the keys and having access to the building. Some feat.
What was the most frightening moment of your life?
Being pushed off a sailing boat out in the middle of the Atlantic, I don't swim very well.
How would you describe your taste in clothes?
Classic and simple. No frills or flounces for me.
What would you do if you won a million pounds?
Difficult one - I'd spend a bit, share a bit and think about the rest.
What was your most embarrassing moment?
Answering this questionnaire.
What music do you like?
Snow Patrol, Amy Winehouse, Duffy, that kind of thing.
What sports person do you most admire?
Brian O'Driscoll, I think he is a great ambassador for Rugby and Ireland.
Describe your best ever holiday. What would your dream holiday be?
Travelling through Borneo on a traditional wooden boat to see the Orangutans. Can't really beat that.
What is your greatest remaining ambition?
Going to South Africa or Alaska to see the humpback whales migrating. But to do that we need to survive this recession.
If you could spend a day with a celebrity whom would you choose.
I like the comedians that are around at the moment, so maybe John Bishop or Peter Kay.
If you were stranded on a desert island what three things would you want with you?
Johnny Depp, Johnny Depp and Johnny Depp.
Favourite things
Car: Audi TT or Fiat 500
Film: Mamma Mia
Comedian: John Bishop, Michael McIntyre
CD: Duffy
Book: The Other Boleyn girl
Actor: James Nesbitt
Actress: Meryl Streep or Julie Walters Drink: White wine or tea
Ulster Star
12/08/2011