Katrina McCorry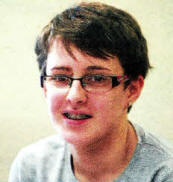 KATRINA McCorry,15, from Glenavy is a pupil at St Patrick's Academy in Lisburn. She is in fifth year and recently spent a week at the Star finding out what life as a reporter is like.
What do you like doing on your day off?
I like to spend time with my family or read a good book.
If you were to choose your favourite meal what would it be, where and why?
My favourite food would have to be chocolate, what girl doesn't love it?
What has been your proudest moment?
My proudest moment would be winning the book review in my school two years in a row.
What was the most frightening moment of your life?
My most frightening moment would probably be watching scary films because I hate them.
How would you describe your taste in clothes?
Skinny jeans and a nice top or whatever 1 feel like putting on.
What would you do if you won a million pounds?
I would pay for me and my family to go on a world trip and give some money to those who need it.
What was your most embarrassing moment?
Falling of the stage in school.
What music do you like?
I like all types of music, if it's a good song I will listen to it.
What sports person do you most admire?
I don't really admire anyone to do with sports because I'm not in it but if I had to pick it would be the whole Irish rugby team.
Describe your best ever holiday. What would your dream holiday be?
My best holiday would be when I went to Belgium and Paris for a week with my school and Lisnagarvey High School. My dream holiday would be to see the whole world.
What is your greatest remaining ambition?
To set up my own business and to become successful.
If you could spend a day with a celebrity whom would you choose?
It would probably be Eminem or Lady Gaga
If you were stranded on a desert island what three things would you want with you?
A phone with money on it, an airplane and a pilot to get me off the island.
Favourite things
Car: Volvo C30
Film: Twilight Saga
Comedian: Russell Howard
CD: Recovery by Eminem
Book: The House of Night series
Actor: Robert Pattinson
Actress: Kristen Stewart
Drink: Coke
Ulster Star
11/11/2011