Maeve McKernan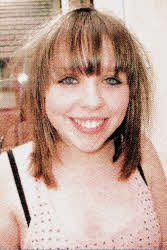 Maeve McKernan, 14, is in the chorus in Fusion Theatre's latest show Chess the musical which is on in the Lagan Valley Island Centre from September 7 to 10.
What do you like doing on your day off?
Hanging out with my friends.
If you were to choose your favourite meah what would it be, where and why?
It would be a barbeque at my house with my family on a lovely summer day because its great spending time with my brothers, my mum and my dad.
What has been your proudest moment?
Probably being on stage with my brothers and Fusion and seeing my Mum's face each time she saw us.
What was the most frightening moment of your life?
Riding on an elephant's back in South Africa.
How would you describe your taste In clothes?
I'd say I have quite good taste. I really like vintage styled clothing but I also like following the latest looks. I have lots of designer clothes but also stuff from the high-street. I love creating a whole look out of one key piece so my clothes vary depending on what's "in" at the moment and the mood I'm in that day.
What would you do if you won a million pounds?
I'd obviously give some away to charities and other worthy causes. I'd spend some so that me and my family could live happily and comfortably, but I'd also put some away and possibly invest in a business and buy some shares.
What was your most embarrassing moment?
When I was sick all over the tent and my friends sleeping bag when we were away on a camping trip and had to be brought round to stay in someone else's tent.
What music do you like?
I really like YouTube musicians but I'm also really into music like The Script, The Saturdays and Taylor Swift.
What sports person do you most admire?
It would have to be either Rory Mc Ilroy or Darcy Bussell.
Describe your best ever holiday. What would your dream holiday be?
My best ever holiday was going to South Africa with my family for three weeks because I got to do and try stuff that I never would have imagined doing in my life. My dream holiday would just be to go with my family to somewhere I've never been before like Dubai or Peru and just explore and experience the culture the history of the area.
What is your greatest remaining ambition?
To leave the world a better place then when I found it and to know that I have touched someone's life by something I have said or done.
If you could spend a day with a celebrity whom would you choose?
Harry Styles.
If you were stranded on a desert island what three things would you want with you?
A fishing net, my cat and a scrapbook full of my favourite memories.
Favorite things
Car - Convertible Mercedes Benz
Film - Harry Potter and the Deathly Hallows Parts 1 and 2
Comedian - John Bishop
CD - Chasing lights, The Saturdays
Book - The Death and Life of Charlie St Cloud
Actor - Tom Cruise
Actress - Cameron Diaz
Drink - Pink Lemonade
Ulster Star
09/09/2011