Rachelle Liggett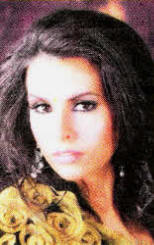 RACHELLE Liggett, 21, is the current Miss Hillsborough Oyster Pearl. The student who is hoping to become a Primary School was also recently crowned Miss Ireland in the prestigious Miss Earth competition. She was chosen at the UK and Ireland grand final in England to go on to represent Ireland along with Miss Scotland, England and Wales at the world televised finals in Thailand for three weeks in November.
What do you like doing on your day off?
I go shopping every Saturday with my mum and sister to Lisburn. But we are lazy shoppers and end up spending most of the afternoon in Whether-spoons having lunch and a chat over coffee.
If you were to choose your favourite meal what would it be, where and why?
I love Spaghetti Carabonara from my favourite restaurant Scalanis in Belfast. I love Italian food and it is the best I have ever tasted.
What has been your proudest moment?
To date it has to be when I won Miss Hillsborough Oyster Pearl. I really didn't expect to win and when they called out my name as the winner I was overwhelmed.
What was the most frightening moment of your life?
When I went parasailing on my 21st birthday! I have a real fear of heights so I decided it was now or never and decided to just go for it. It was so scary but exhilarating at the same.
How would you describe your taste in clothes?
I am quite a girly girl so I love dresses and high shoes. I don't follow mad fashion trends I try to choose vintage clothes that never seem to date.
What would you do if you won a million pounds?
I would love to build a lovely house in the countryside. But believe it or not I wouldn't stop working. I would want to keep busy in my career as I come from a hard working family background. However my dream would be to set up my own charity for children with leukaemia in Northern Ireland so winning the lottery would give me the time and financial freedom to support a cause that personally means so much to me.
What was your most embarrassing moment?
It has to be when I was interviewed in my bikini at the Miss Northern Ireland final. I had to walk for what seemed the longest walk of my life from one end of a huge room to the other where 15 judges were sitting at a table. On the plus side any other interview I have had since has seemed a walk in the park.
What music do you like?
I love all music really from AC/DC to Enrique Ingelias. I just love anything I can dance to!
What sports person do you most admire?
Darren Clarke.
Describe your best ever holiday. What would your dream holiday be?
I have always been captivated by Egypt since I was a little girl. Egypt triggered my love of history so it is definitely on my to do list, so I hope it lives up to my imagination. Other than that lying on a beach in the Maldives or island hopping in the Seychelles would be amazing.
What is your greatest remaining ambition?
I plan to continue with my studies and ultimately achieve a PHD in Education and have a job that I really love. I also hope to have a family of my own one day as family is very important to me and a big part of who I am.
If you could spend a day with a celebrity whom would you choose?
Johnny Depp.
If you were stranded on a desert island what three things would you want with you?
Oh just the essential things like food, water and Enrique Ingelias.
Favourite things
Car: BMW 3series
Film: The Godfather trilogy
Comedian: Paddy McGuinness
CD: Album by Rod Stewart
Book: My Sister's Keeper
Actor: Johnny Depp
Actress: Julia Roberts
Drinks: West Coast Cooler
Ulster Star
28/10/2011