Stuart Millar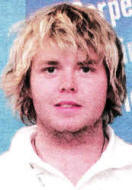 STUART Millar is a local refrigeration apprentice at SERC Lisburn Campus who has been chosen as a squad member of Team UK for WorldSkills London 2011. Recently he claimed a gold medal at the national Skill-FRIDGE finals. WorldSkills is the world's largest international skills competition where young people from across the globe compete to become the best of the best in their chosen skill. The finals will take place in the ExCeL arena, London in October.
What do you like doing on your day off?
I love doing watersports in the summer and quad racing and moto x in the winter.
If you were to choose your favourite meal what would it be, where and why?
It would have to be full Christmas dinner at home because home cooking is the best.
What has been your proudest moment?
Finishing the Belfast marathon.
What was the most frightening moment of your life?
Going to Windsor Castle to get my Queen's Scout badge.
How would you describe your taste in clothes?
Shorts and flip flops.
What would you do if you won a million pounds?
I would buy a new Mastercraft X star boat and a holiday. I would save the rest.
What music do you like?
Pretty much anything from dance, rap, pop and new music.
What sports person do you most admire?
David Beckham.
Describe your best ever holiday. What would your dream holiday be?
Three weeks in Spain with my parents and best mate. I would love a wakeboarding holiday in Florida.
What is your greatest remaining ambition?
To master a backflip on a wake-board.
If you could spend a day with a celebrity whom would you choose?
WRC driver Sebastian Loeb.
Favourite things
Car: Vauxhall Nova
Film: Lucky Number 7
Comedian: Billy Connelly
CD: Meat Loaf
Book: Darren Clarke's autobiography
Actor: Daniel Craig
Actress: Angelina Jolie
Drink: Red Bull
Ulster Star
18/03/2011