Tracey Patterson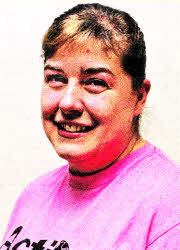 TRACEY Patterson, 37, will be taking to the stage of the Island Hall next month with Lisnagarvey Operatic Society for their annual Christmas pantomime. This year's production, Sleeping Beauty, will run in the Island Hall from December 3 to 10. Tickets, priced £9, are on sale from the Box Office on 9250 9254.
What do you like doing on your day off?
Going out for lunch with friends.
If you were to choose your favorite meal what would it be, where and why?
Fillet steak, tobacco onions, garlic potatoes with peppered sauce at Benedicts in Belfast
What has been your proudest moment?
Passing my driving test first time.
What was the most frightening moment of your Life?
First time I walked onto stage was very frightening.
How would you describe your taste in clothes?
I would say comfortable clothes. Jeans, t-shirts, trackies and hooded tops are what I like wearing.
What would you do if you won a million pounds?
I would go on a year long round the world cruise with family.
What was your most embarrassing moment?
During a school show playing Brocklehurst, I couldn't say 'man' in a posh accent and it came out broad Belfast every-time. I still get ribbed about it.
What music do you like?
Soft Rock i.e. Bon Jovi, Aerosmith, Def Leppard also Snow Patrol and The Script
What sports person do you most admire?
Anyone in the Ulster rugby team, especially Rory Best
Describe your best ever holiday. What would your dream holiday be?
Seven night cruise around the Mediterranean with Royal Caribbean. I would love to go to St Lucia.
What is your greatest remaining ambition?
To be a mum.
If you could spend a day with a celebrity whom would you choose?
Hugh Jackman.
If you were stranded on a desert island what three things would you want with you?
My boyfriend, my cat and my knitting.
Favourite things
Car: Aston Martin
Film: Dirty Dancing
Comedian: Billy Connelly
CD: Meat Loaf 'Bat Out of Hell'
Book: Alex Cross series: James Patterson
Actor: Al Pacing
Actress: Nicole Kidman
Drink: Bacardi and Diet 7Up
Ulster Star
02/12/2011