MODERATORIAL YEAR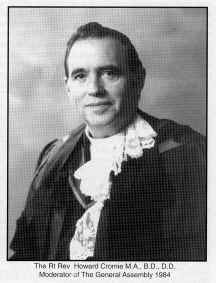 On New Year Sunday 1984 I preached a New Year sermon to the congregation on the theme - `1984 is Opportunity's Door'. Little did I think how that theme would be fulfilled in my own experience. In recent times a number of my brethren had said they would wish to see me elected as Moderator, however I took their comments with the proverbial 'pinch of salt' and did not consider the proposition very seriously. It therefore came as a considerable surprise to me in the Spring of that year when I was nominated by 16 of the 22 Presbyteries of the Church.

Congratulations and Good Wishes poured in from all directions. I felt uplifted on a great tide of goodwill throughout the community, and assured of the prayers of a host of Christian people.

The months from March until the beginning of June were very busy with preparations for the ensuing year. So many sermons and addresses were required for all kinds of special occasions beyond the Assembly as well as an inaugural address and various speeches at the Assembly itself.

One special event in the month of May was the Graduation Ceremony at Union College, Belfast, when the Presbyterian Theological Faculty, Ireland, conferred on me the degree of Doctor of Divinity. My good friend Professor Stanley McIvor with whom I had shared 'digs' in our student days in Edinburgh read the citation. It was a great occasion and I was pleased that so many members of my family and friends were present for the conferring and for the reception afterwards.

Another rather splendid evening was the presentation of Moderatorial Robes by the Congregation. Kathleen was also honoured with the gift of pearls. It was a light-hearted enjoyable evening with many felicitations being expressed.

One of my concerns about assuming the Moderatorship was the pastoral care of the congregation while I would be away. For me it was providential that the Rev John McCaughan, the highly esteemed minister of Legacurry, having just retired a few months previously, had come to live within our parish and with his wife had become members of Railway Street congregation. I asked him if he would take on pastoral responsibility in my absence and after giving the matter some consideration he graciously agreed. This put my mind at rest for I had complete confidence in him, knowing that the congregation would appreciate and benefit from his ministry. Time confirmed that I had made the right choice.

The General Assembly always meets during the first full week in June. Monday, 4Th June 1984, was a lovely sunny day. At 7.00pm Wilton's limousine came to the Manse and took me with my Chaplains, the Rev Harold Graham and the Rev Harold Gray, to Church House. It was a pleasant journey and many press photographs were taken on arrival.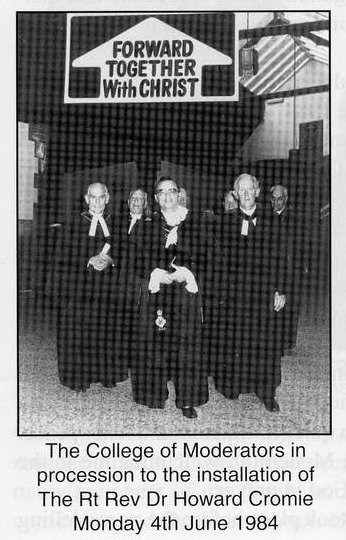 We robed and listened to the Assembly's proceedings relayed to the Moderator's Room. On my formal election I was given a rapturous welcome by the Assembly after which the College of Former Moderators led me to the platform followed by my Chaplains. It was a lonely walk. Yet I knew ( was not alone, the sense of the presence of God and the goodwill and prayers of the people gave me a quiet confidence and inner peace. Dr T J Simpson, the outgoing Moderator, welcomed me to the Chair and commended me to God in prayer.

I am glad my installation took place before the re-modelling and renovation of Church House was effected because the original hall with its two galleries was a much more impressive building. It was awe inspiring to see that vast auditorium with both galleries packed with eager and enthusiastic Presbyterians. My inaugural address was on the theme 'Forward Together with Christ'. This became my motto for my Moderatorial year. I felt there was great need for emphasising the unity of the Church and the need for going forward in our obedience to Christ.

Thus began a very busy week, rising each morning at 6.30am, to be ready to leave for Church House at 8.30am. The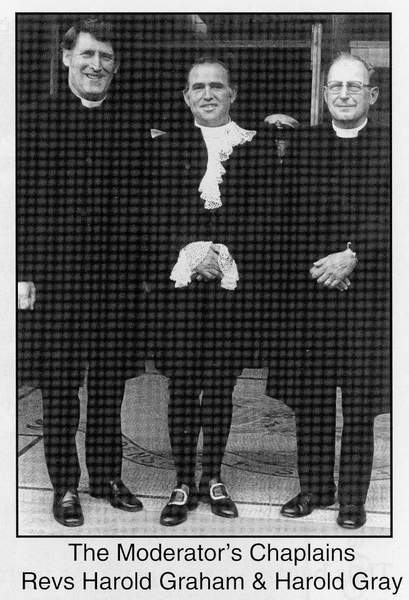 Assembly began at 9.30am, when I conducted Bible Study each morning on the theme of `The Great Commission'. On Wednesday evening the Moderator's Reception was held in Malone House, Barnett's Demesne. This provided a luxurious setting for over 350 guests. It was a wonderful evening, everyone was so relaxed and enjoyed an excellent Buffet Supper. Greetings were conveyed by the Lord Mayor of Belfast, Councillor Alfred Ferguson, and my friend the Rev Dr George Eagleson. Thursday was another very full day beginning with the Edinburgh Breakfast at 8.00am in Lowe Memorial Church Hall, Finaghy, where I brought the Greetings of the General Assembly to all former students of New College, Edinburgh. This is a popular annual event, which has been in existence for over 50 years. Since their the name has been changed to the Scottish Breakfast, thus including former students from other Scottish Theological Colleges. Kathleen attended the Ministers Wives Association Luncheon in May Street. There she was presented with the Moderator's Wife's Badge - a gold Burning Bush mounted on a Silver Shamrock. After thanking her colleagues Kathleen brought them the Moderator's Greetings and delivered a witty speech, much to the delight of her mother who was in the assembled gathering, as well as to her many friends.



In the afternoon we left by limousine to attend the Royal Garden Party at Hillsborough Castle. There we were invited to have tea with Princess Margaret. The weather was kind, the sun shone and we enjoyed mingling among the 1100 guests who were moving freely around the spacious castle grounds.

That evening we returned to Church House for the Moderator's Rally at 7.30pm. I took the opportunity of highlighting two aspects of the Church's outreach in which I had been involved for many years, namely, the Irish Mission by interviewing two colporteurs, Wm. Porter and Tom Hollywood; and Church Extension by interviewing the Rev Robert Lockhart. Railway Street choir led the praise and Eric Hinds was our soloist. My principal guest was Rev Dr Donald English who gave a challenging address on the Church's Mission.

The business of the Assembly concluded on Friday with my closing address at 4.00pm, followed in the evening by a Youth Rally when the Hall was packed with young people from all over Ireland:

On Sunday 10th June I had an interview with Trevor Williams on 'Sunday Sequence' followed by a Broadcast Service from Railway Street Church on B.B.C. at 10.30am. It was Pentecost and so I preached on Acts Chapter 1, verse 8: 'You shall receive power when the Holy Ghost has come upon you'. It was a Service that received warm appreciation.


Thus began a very busy year representing the Church at a great variety of functions. There were colourful and glittering occasions such as the Lord Mayor's Banquet in the City Hall, University Graduations and Receptions, The Royal Garden Party at Buckingham Palace, lunch in the House of Lords etc. These were counterbalanced with occasions of great sadness such as bringing the sympathy of the Church to families bereaved through terrorist murders and taking pan in their funeral services. At such times the media were always present seeking comment from the Moderator.

Presbytery visits are a priority for the Moderator. I spent a very full week in each of the following Presbyteries Templepatrick, Iveagh. South Belfast, Dublin and Tyrone. These were intensive programmes not only involving the congregations but also visiting schools, colleges, hospitals, industrial establishments, district councils - touching on as many points as possible Through Changing Scenes that affect the daily life of our people. Everywhere I went I was received with great courtesy and appreciation. I was most grateful for the fact that on nearly all of these occasions Kathleen accompanied me. Her presence was a constant source of inspiration and encouragement especially in situations of stress or sorrow.

At that time the Police and the Army were under great strain from terrorism and had suffered some heavy losses, so I made a point of visiting all Police Stations and Army Bases in the various Presbyteries to bring them some encouragement. I always came away inspired by their `esprit de corps' and their devotion to duty.
Because of my service as officiating Chaplain to the Forces at Thiepval Barracks, Lisburn, I was asked to visit the Irish Regiments serving in Germany. This was a most interesting experience. In the Amy a Moderator is given similar precedence to a General, so when I boarded the plane at Luton Airport I was given complete V. I. P. treatment on board and was escorted off the plane, ahead of all other passengers.

During my time in Germany I visited the Royal Irish Rangers, the Irish Guards, the Royal Irish Hussars and the Black Watch. On the Sunday morning I preached in St George's Garrison Church in Osnabruck and addressed an army conference at Church House in Lubeck, which had been formerly the headquarters of Hitler Youth.

One experience I shall never forget was my visit to Belsen, the site of the Nazi concentration camp with its huge mounds containing the remains of hundreds of victims, mostly Jews, who died there. In the midst is a huge stone memorial of the Holocaust. The place has such a forbidding atmosphere; it is little wonder they say no bird ever flies over it. Certainly I did not see any.

One of our Chaplains, the Rev Neil Cameron, looked after all my needs during my visit. He and his wife were most gracious in their hospitality.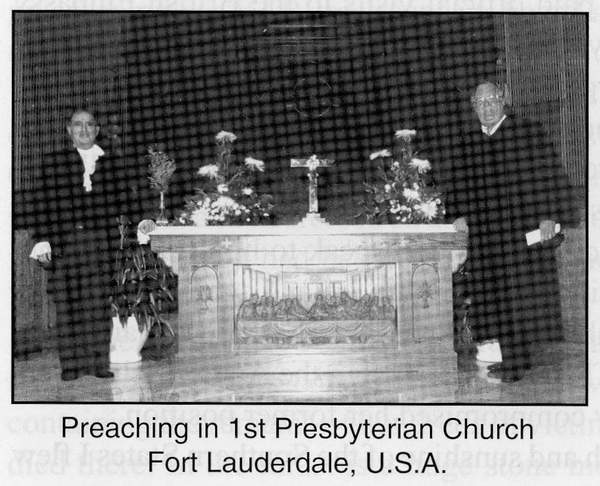 A pressing invitation came from my friend, the Rev Dr Richard Cromie to preach in First Presbyterian Church, Fortlauderdale, Florida on Advent Sunday. With difficulty I managed to clear a week and so I flew to New York on 6th December and after a long delay got an onward flight to Miami, where Richard and Peggy met me and drove me to their home in Fortlauderdale. There I had a couple of relaxing days, before preaching at two packed morning services on Sunday, the second of which was broadcast. The following day I flew to Washington where the Rev Dr Graham Smyth and his wife Madge hosted me. They were keen for news about the Irish Church so we talked well into the night. The following morning I paid official visits to the British Embassy and the Irish Embassy. This latter proved to be a tense and lively meeting for Mrs. Margaret Thatcher, the British Prime Minister, had just made her famous, 'No! No! No!' speech regarding Northern Ireland. Fortunately the Irish Ambassador, Mr. O'Sullivan, had paid me a courtesy call in Belfast a short time before, so we knew one another and I was able to speak to him frankly about the strength of opposition in Northern Ireland against any direct interference from Dublin in its internal affairs. Less than a year later, however, Mrs. Thatcher was to sign the Anglo Irish Agreement which seriously compromised her former position.

From the warmth and sunshine of the Southern States I flew to the cold and snow of Hartford, Connecticut. There I was met by Professor Ray Raymond who drove me straight to Hartfield University where I had a half-hour TV interview, followed by a further half-hour of questions from students phoning in from several campuses. From there we drove to Hartford Broadcasting Station for an hour-long interview on the Mark Davis Current Affairs programme- 'Heartbeat of New England'-which is received from Boston to Florida. This was followed by half-an-hour of phone-ins', when Rickey Lawless, the Nor-Aid spokesman, came on ranting about Loyalist propaganda. Fortunately I was in good form and was able to counter all his arguments. It was an exciting programme! We then drove 45 miles to Professor Raymond's home arriving at 12.30am. I was glad to get to bed!

The next day was equally hectic with Broadcast interviews and receptions etc. accompanied by Howard Beattie of the British Information Service. Eventually we left Hartford and drove for four hours to New York to Union Seminary where I stayed for the night. Next morning Dr Charles Reynolds called for me at 8.30am and took me to have breakfast at the Inter-Church Centre at 475 Riverside Drive. More receptions and meetings were held all day.

At 4.OOpm the Rev Tom Wilson, Moderator of New York Presbytery, took me to meet what he described as a representative Irish Group.

They were mainly Irish American Roman Catholics, most of whom were bitterly anti-British. They were largely immune to reasoned argument and 1 gained considerable insight into the 'Nor-Aid' constituency. The meeting concluded at 6.30pm and I had to hasten away by Yellow Cab to Kennedy Airport.

The traffic was very heavy and at times was hardly moving at all so that the driver said he doubted if he could get me there in time for my plane. I prayed fervently to the Lord to intervene for by then I was feeling quite exhausted. Suddenly my prayers were answered, the traffic started moving quickly and I arrived at the Pan Am Terminal in time. I checked in my baggage, bought a few bars of chocolate, boarded the plane at 9.OOpm and took to the air with great relief

After a good flight to Heathrow I boarded the Shuttle next morning at 10.30am and arrived back to Aldergrove. My last flight was my best because I was coming home. I was delighted to find Kathleen looking lovely and with a welcoming smile. When we arrived back at the Manse Fiona had the lights shining on the Christmas Tree to welcome me home. I was tired but content and thankful to God for His protecting care. In my Diary I wrote, `There is no place like home!'


Each Moderator has to decide on his policy regarding inter-church relations. My considered opinion was that as Moderator I ought to be ready to represent our Presbyterian people wherever possible and as a Christian leader to welcome opportunities of expressing what I believed to be the Mind of Christ in given situations. In general terms it is always best to talk.

One of the first questions I was asked when I was nominated as Moderator was: 'Will you be willing to meet the Cardinal?' My immediate response was: 'Yes, I expect to meet the Cardinal and many other community leaders as well. I will be glad of any opportunity to represent the Church'. This open approach was welcomed warmly by our church members and by the community in general. Thereafter many doors were opened to me for fruitful encounters and discussions.

One interesting visit I had was to the Jewish Synagogue in Belfast where I met and talked with the Chief Rabbi, Sir Immanuel Jakovich from London, the head of Jewry International. He was a very urbane, cultured gentleman. A fine representative of his people. He presented me with a copy of the Jewish Authorised Daily Prayer Book. Sadly the Jewish community has been greatly depleted in numbers since the Troubles began in Belfast in 1969. Many of them have moved to Dublin

The Roman Catholic Church in the U.S.A. sent over a group of Bishops headed by Cardinal O'Connor, Archbishop of New York, on a fact-finding mission. I was invited to a meeting with them in Drumsill House Hotel, Portadown, which I gladly accepted. We had an enjoyable dinner together and I explained to them in detail the views of our people regarding the activities of the I.R.A. and their reasons for being opposed to a United Ireland. By the time the evening ended I think they had a clearer understanding of the situation.

When the Church of Ireland issued a new Alternative Prayer Book they organised a magnificent service in Armagh Cathedral. Representatives of Church and State were present, including President Hilary from Dublin. It was one of those occasions that illustrates how 'the best laid schemes o' mice and men gang aft a gley'. The guest preacher was to have been the Archbishop of Wales, but at the last minute his plane was unable to take off. Fortunately he had sent a copy of his sermon in advance. Poor Archbishop John Armstrong had to read it - rather falteringly because he had not had time to read it over beforehand! In the service I was duly presented with a specially bound copy of the New Prayer Book.

Each month the four Church Leaders, Archbishop John Armstrong, Cardinal Tomas O'Feach, Rev Paul Kingston, President of the Methodist Church and myself met in each others homes. These gatherings were always very enjoyable social affairs. After tea we all shared in Bible Readings and saying the Lord's Prayer together. The host always chose the selected Bible passages.

At these meetings we discussed the current situation and made arrangements for joint action, statements etc.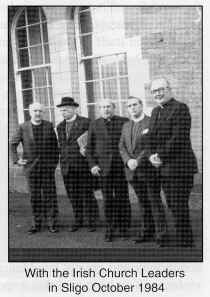 On 31" October 1984, we paid an official visit to the town of Sligo. There we visited some very advanced Industrial Establishments, the Further Education College, Hospitals, Council Chambers etc. Lunch was in the Parochial House and Evening Service in the convent. We shared together in evening prayers. Numbers in the convent were very small, only a few very elderly nuns. Before leaving Sligo I had a phone call to say that my first grand-daughter, Jennifer Patricia Louise Cromie, had been born - a daughter for Alan and Patricia.

At Christmas we met together at a number of special functions, including a united Carol Service in the Ulster Hall and a joint television broadcast on both B.B.C. and U.T.V We also shared in a number of special services in St Anne's Cathedral, Belfast.

In Dublin I had the opportunity of visiting the Irish School of Ecumenics where Dr Robin Boyd was a key figure and I was greatly encouraged by the good work that was being done there as well as at the Ecumenical Centre in the Wicklow Mountains. The Rev Alan Martin, Minister of Abbey Church, Dublin, was one of the principal organisers there - though without as much financial backing, its aims are similar to that of the Corrymeela Community at Ballycastle which I also enjoyed visiting. I still cherish a Communion Cup and Plate with which I was presented at Corrymeela.


At one of our meetings of the Church Leaders I spoke about the need for calling all our people to prey for an end to violence and for the establishing of a true and lasting peace. The idea commended itself to the others and so we agreed that since St Patrick's Day, 17th March, was falling on a Sunday in 1985, we would designate that day as a special Day of Prayer in all our Churches and agreed that the four of us would share in a United Service in Down Cathedral in the afternoon.

All our plans went well until banner headlines appeared on the front page of the Belfast Telegraph on Tuesday, 12th March saying that Cardinal O'Feaich was calling for a withdrawal of the British from Northern Ireland and saying there would be no peace in Ireland until the British left. This was followed by a further statement on the next evening by the Cardinal calling for the introduction of United Nations forces.

These statements incensed the whole of the Protestant community and greatly heightened the possibility of increased violence. It so happened that a special Press Conference by the Church leaders had been called for Thursday 14th March at 11.30am in Ballymascanlon Hotel to publicise and promote the Day of Prayer for Peace Service to be held in Down Cathedral on the Sunday.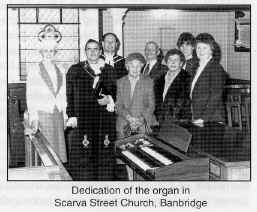 The publicity given to the Cardinal's remarks meant that when we arrived at Ballymascanlon the room in which the Press Conference was to be held was packed with T.V cameras and press reporters from all over Britain and Ireland and some from Holland and other continental countries. It was an awesome experience. I found it necessary to speak out in contradiction of the statements made by the Cardinal. This created a serious dust-up. I believed that the credibility of the Day of Prayer was at stake, as well as the credibility of each of us as Church Leaders. The Cardinal had made the statements in public so they had to be answered in public.

By nature I do not like confrontation, but this was a situation where it would have been cowardly to have avoided it. For days afterwards my telephone n e v e r ceased, mostly with messages of thanks and support from Protestants and Roman Catholics alike. On the Sunday the police insisted that I should have a police escort to and from Down Cathedral. People attended in hundreds and the service proceeded as planned with each of us taking part in the prayers of intercession and in saying the Blessing together.




In 'Thought for the Day' the following morning the Rev David Lapsley referred to the controversy of the previous days and especially the confrontation at Ballymascanlon as being of great value in bringing out into the open the real issues that confronted the community and showing the need for honesty in dialogue and disagreement rather than papering over the cracks with polite inane pleasantries. One effect it had was that thereafter the Cardinal chose his words much more carefully when making statements that affected the Community. It is most important that inter-church contacts are maintained and developed, particularly at the grass roots so that people may grow in mutual trust.

The Rev Kenneth Newell invited me to preside at an Ecumenical Service in Fitzroy Church. The guest speaker was Archbishop Desmond Tutu of South Africa. He had just flown in an hour earlier from America and was suffering from jet lag and general exhaustion. Yet when he began to speak he seemed to become electrified as he expounded his theme of racial equality tracing it all the way through the Scriptures from Genesis to Revelation -and never once referring to a note. He may be small of stature, but in the pulpit he appeared a spiritual giant. He won my unbounded admiration that evening.

One situation that concerned me greatly was the dire distress of the people of Ethiopia stricken by the worst famine in their history. The news media brought daily reports and pictures of the suffering and death of thousands of starving men, women and children.

I decided to launch a special appeal to the whole church for financial help. The Appeal struck an instant chord with the people. The money began pouring in both from congregations and individuals. The total amount raised by the Moderator's Appeal was £277,329.62p, all of which was channelled to Ethiopia through Christian Aid and Tear Fund. This was proof positive of the generosity of our Presbyterian people when they are asked to respond to a situation of genuine need.
It has now become the general practice for the Moderator to visit some area where our overseas missionaries are working. The area which I was invited to visit was Singapore and Indonesia. No Moderator had spent an extended visit there before so I was glad to have the opportunity of doing so.

Kathleen; and I duly made our preparations, had the necessary inoculations etc and then set out on our journey on 4th January 1985. We left the Manse at 6.45am and Brian Menown drove us to the airport. It was bitterly cold with 3 degrees of frost and the road was like glass.

We flew to London, changed planes for Amsterdam and then boarded the K.L.M. flight at 7.45pm for Kuwait arriving there at 3.OOam. The airport there is a huge building with its interior walls, pillars and stairways finished in marble and all spotlessly clean and with obvious signs of oil wealth.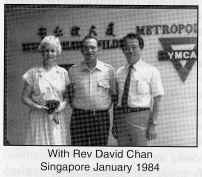 There were lots of Arabs wearing traditional headdress, some of them sleeping on the floor. After refuelling we took to the air again. At 7.OOam we were served breakfast and were told it was afternoon - 2.OOpm Singapore time! Eventually at 4.30pm we arrived in Singapore Airport, a very modem and spotlessly clean building. There we stayed in the Metropolitan Y. M. C. A. - very comfortable accommodation. Singapore is a bustling prosperous city - very westernised. The leaders of the Christian Community gave us a most cordial welcome. On Sunday morning at 9.OOam I preached in Katong Presbyterian Church which was packed mostly with young people. At the Communion that followed there were so many Communicants that they ran short of wine and only one piece of bread was left. The Clerk of Session, Mr Kok Siew Hoong, an architect, and his wife Patricia, took us with other guests to lunch at Singapore Swimming Club. There we had a marvellous Chinese meal. The Club is a beautiful place, very British in ethos. We were seated at a large round table with the food dishes on a Jwahn Poon (turning tray or carousel). One dish had a roast chicken complete with its head, looking straight at Kathleen. She was a bit taken aback by this! Then it was explained this was done because she was the Guest of Honour.




In the evening I preached to another packed congregation in Orchard Road Presbyterian Church. This was a very traditional Scottish service, attended by many ex-patriots who are still living there.

On Monday we were received by the Principal of Trinity Theological College and graciously entertained. This is an Interdenominational College with 150 students from different countries. From there we went to the Presbyterian Church House and had a meeting with the Synod Executive Committee. I came away encouraged by their enthusiasm and desire for Missionary out reach. Little wonder their Church is growing so rapidly.

After a very full and stimulating programme in Singapore we flew on to Jakarta, the capital of Indonesia. Here we were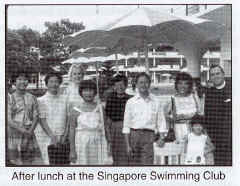 met by John and Joan Hanna and their baby Kathay who looked after us well.

Jakarta was a real culture shock; seriously overpopulated. There are 5 or 6 million people in a city hardly capable of coping with half that number. It was pathetic to see people living in cardboard shacks beside the railway line. Street hawkers were everywhere. Smells abound! Taxis are mostly small old bangers. There are many three-wheel taxis or tricycle taxis. Wherever we went we were warned to hold tight to our belongings.

We stayed for two nights at the D.C.I. Guest House - a very basic place with highly amusing bathing facilities! There is a tall narrow tank of cold water called a `mandy' and a saucepan with which to scoop the water and pour it over one's body. They told us however of one English visitor who thought the tank was to be used as a bath and so climbed into it. He then found he could not get out and was nearly frozen by the ice cold water. He had to call for help - fortunately there are no locks on the doors and he could be rescued. Bathrooms in fact, didn't even have a door never mind a lock.
North Sulewasi
From Jakarta we flew by Garuda Airline Jet to Ujung Pandang and then on to Monado in North Sulewasi. As we approached we saw that we were flying over very rough mountainous terrain. The nearer we came we found we were flying between and around very high mountain peaks, at times it seemed as if we were going to touch them. When eventually we landed in a downpour of rain all the airport staff came out with umbrellas and clapped and cheered as we came down the steps off the plane. Among the people on the tarmac was James Haire who had come to meet us. He soon kindly told us that the clapping and cheering was not simply to welcome the Irish Moderator and his wife but to welcome the plane! Ours was the first plane able to land for two weeks because of the monsoons. It had only been possible because our pilot was the Chief Air Training Pilot for North Sulewasi. They had no radar equipment so only someone with his skill could negotiate the mountain peaks. The Japanese during their wartime occupation had first used the airport in the midst of the mountains. They reckoned such a dangerous location for an airport would make it safe from allied air attacks.

James gave us a very warm welcome and then drove us by Jeep to his home at Tomahon which is 3000 feet above sea level. It is quite cool and pleasant. The Dutch Missionaries had chosen it because it was most like Europe and free from the malaria-carrying mosquitoes. This was a safe place for Julie and Miriam Haire, both of whom had been seriously ill with malaria a few years earlier when they were very young.
We felt so much at home with James, Mary and their two daughters and through them we met some very interesting people. On our first evening Professor Lin Kong came to have supper with us. He proved to be a most interesting man, Professor of Church History. His great grandfather had been a headhunter. As well as his native Indonesian he spoke fluent German and English. Walter Scott and Charles Dickens were his favourite pass-time reading.

One evening as we sat talking in James' lounge we felt our chairs suddenly move on the floor. However Mary reassured us that we had nothing to worry about - it was just their friendly volcano at the back door' having a minor eruption. The next day James took us to a point where we were able to see the mountain with the smoke coming out of the crater at the top and the brown coloured lava on the side of the mountain that faced away from their house! I hope we appeared sufficiently reassured.



We visited Bethsaida Hospital run by the Church and the Theological Faculty where they had over 500 students for the ministry. There we saw something of the esteem in which James Haire was held as a Professor and as an Administrator. I had the privilege of addressing the staff and students and then of answering their questions on Ireland.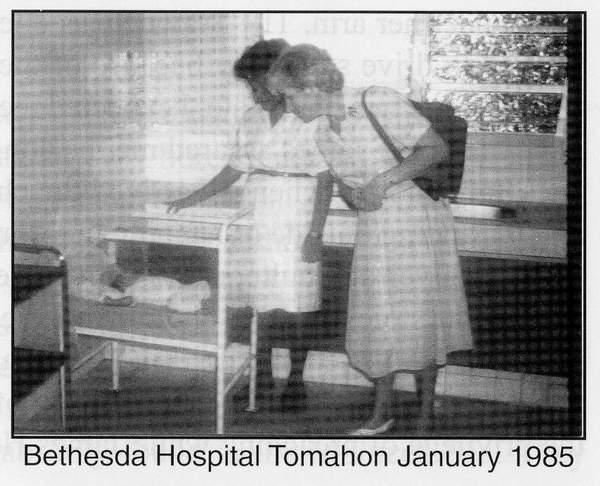 While we were in Monado we were invited to a wedding. It was a very colourful affair. At the reception the bride and groom sat on two very large chairs, almost like thrones. When we remarked on these we were told that the bride and groom were Prince and Princess for the day. There was a considerable variety of food, most of which James Haire advised us not to eat. We did, however, eat bananas, which were safe, and satay, small portions of meat on a stick - rather like Kebabs. The bridal bedroom was on view for all to see. It was decorated in strong pink colours and festooned with large butterflies as the symbols of fertility. The whole affair was very enjoyable, however that night Kathleen and I felt quite unwell with tummy cramps and diarrhea. Afterwards Miriam Haire asked me if we had eaten satay at the Reception, which we said we had. She said, "That is the reason you have had food poisoning, they have been killing stray dogs in the village in preparation for that wedding, otherwise they could not have afforded meat at the Reception ". Thereafter we avoided satay!

The next morning was Sunday and we left home at 7.OOam and travelled in a track along a very rough dirt track to the village of Mundung in the bush country. Parts of the road had been washed away by the monsoons. James Haire brought two young men in the truck with us in case we needed to be dug out. We also picked up a woman on the way who was carrying live hens under her arm. The Service was due to start at 9.OOam but we had to drive so slowly because of the condition of the road that we were two hours late. I expected the people would have all gone home but James assured me the congregation would wait.

Sure enough when we arrived the church was packed with many standing outside or hanging in through the open windows. We were given a tumultuous welcome. The Session of about forty wore white stoles. Several choirs sang, the band, with homemade instruments, played and Dr Lin Kong sang 'The Holy City' in Indonesian. It was the 50th anniversary of the church and I had the privilege of preaching while James Haire interpreted. There were about 2000 people present. At the conclusion of Worship a lady presented Kathleen with a lovely batik shawl. Some children came up to greet us and touch our hands, - they were not used to seeing white skin. The sheer vitality of the service was most impressive.

The Reception afterwards was held in what looked like a large corrugated barn with a platform at one end. The occasion also marked the 50th wedding anniversary of one of the Elders. They had postponed their celebration for a week so that it would coincide with our visit. After the meal the couple came to the platform. James told me to take note of who took the initiative and did the speaking. It was the wife. The reason being that it is a Matriarchal Society.

In the evening we hurried back along the dirt track as quickly as we could to Monado where I preached in a large new church which was packed to overflowing. I was most impressed with the hundreds of young people. The place was throbbing with young life.

It was thrilling to see such evidence of the Spirit of God at work resulting in the phenomenal growth of the Church.


Ternate
From Monado we flew to Ternate where James Haire had been responsible for building a new Church and developing a Theological Faculty. There we met a young minister whose father is a witch doctor and which be also was until he was converted at the age of 17. Now he is doing very effective evangelistic work among the native forest people.

When we were leaving Ternate the Moderator and Synod Representatives came at 7.OOam and made a presentation to me of a large mounted crab only found in the Molucca Sea. They then came in convoy with us to the airport and waited to wave us off. Transporting the crab home was now our problem. We flew on a small Hawker plane owned by Marpati National Airways M.N.A. James Haire told us that these letters are regarded locally as meaning 'May Not Arrive!' Fortunately we arrived safely in Ambon where we saw the visit of Soharto, the President of Indonesia, accompanied by a very impressive military presence and with a Guard of Honour of Scouts and Guides.

Bali was our next stop. It is a lovely island with part of it developed as a western tourist centre, complete with the usual high-rise hotel apartment blocks etc. The rest of the island is largely unspoiled. We were meant to have two days for rest and quiet relaxation, but the Church authorities discovered we were staying in the Dyana Pura Guest House so they laid on a programme for us of meetings with Church officials etc. at the Synod Office in Danpassar, Dr Sudnia Husada took us on an interesting tour of the island. Bali has a Chinese Buddhist culture with Buddhist temples abounding. There is also considerable Indian influence. We visited a high-cast Hindu townhouse. It had very elaborate reception rooms, Temple, ceremonial area etc. There I bought a rather lovely ebony figure.

It was interesting to see the rice fields with men working in them wearing their wide brimmed hats. Water from the rice fields ran by the side of the road where women were bathing, washing clothes etc. or drawing water for the household. We visited the Temple of King Ubud, which overlooked the President's residence and the Temple of Living Water. We had lunch in the beautiful Elephant Restaurant overlooking the rice terraces. The waitresses were all dressed in colourful Chinese costumes and were most polite.

The early Dutch missionaries sought to replace Balinese culture with a western style Christianity. Those who accepted it were known as 'Black Dutch'. The Church now differentiates between culture and religion and seeks to communicate Christianity through Balinese artforms.This is seen also in the architecture of the Church and the ministers wearing white gowns rather than black. To them the colour black is the symbol of evil. This has attracted many new members. Dr Sudnia was brought up a Hindu but became a Christian through the influence of the school which he attended.


Timor
Indonesia is a vast archipelago of islands stretching from Malaya almost to Australia - about 13,650 of them, some large and some very small (3000 of them are inhabited), but all of them making up a wide variety of cultures. The southern-most island is Timor. The eastern part had been colonised by the Portuguese and the rest by the Dutch, so after independence the island was partitioned. Eventually, however, the Indonesians invaded East Timor and after much bloodshed conquered it.

This explained the strong military presence when we arrived. Although we had been granted special permission by the army in Bali to fly to Timor, our passports were taken from us on arrival and held by the army until we were due to leave. While we were detained by the Army we were quite unsure of what was going to happen next.

We stayed in a quaint little hotel in Kupang (the best in the city!), where the only food we could get for lunch each day was chicken sandwiches. However on three out of five days the chicken was `off' so we had no lunch! One evening we were taken to what was regarded as an up-market restaurant for a meal. We were seated near a window and were quickly conscious of a very unpleasant smell. The window was open and when we looked out we saw dead animals and garbage on the beach below us. We moved to a table in another room to avoid the smell, but once our food was served to us we became besieged by flies. When we tried to beat them away our host said, 'You do not like flies!' He was quite amused, but we were less so. He did not see the danger of these creatures coming from the beach and in through open windows.

Unfortunately Kathleen contracted a tropical virus while we were there, though it did not become obvious for a few days. However, by the time we returned home she was feeling the full effects of it accompanied by a severe feeling of weakness and a very high temperature. Such an infection was almost inevitable because of the conditions that prevailed in Timor.

While Timor is generally a very poor island with extremely primitive ideas regarding sanitation etc., yet the Timorese are a proud, hard-working, kindly people. Their school buildings and equipment were the poorest I have ever seen. Yet the Principal of the Teacher Training College resented being told by a German visitor that they were disgraceful. He replied, 'It is the quality of teaching that matters, not the buildings'.

My first engagement was a meeting in the central Church with all the Ministers. The Moderator, the Rev Tobias Messack, welcomed me and translated as I brought greetings from the Church in Ireland. I discovered that the main purpose of the meeting was to help the Ministers prepare their sermons for Sunday. It proved to be a sermon workshop.

I preached to large, youthful, enthusiastic congregations on the Sunday while Tobias translated. The monsoons were late in coming that year in Timor and the people were praying earnestly for rain for their rice crops. On the Monday evening I was addressing a meeting in the Synod House when suddenly the rain descended. The noise on the tin roof of the building made speaking impossible, so we had to adjourn the meeting. Whereupon the ministers rushed out and danced in the rain until they were soaked, so glad were they to see life-giving water.

We had an interesting visit to the Theological Seminary where the Rev Ken Newell had done pioneering work as a missionary. There were 198 students for the ministry of whom 40 were women. The place is very poorly equipped; they obviously exist on a shoestring, yet they claim it is palatial now compared to what it was like when the Newells were there.

On our final morning in Kupang we walked into the market and met a man carrying a stick on his shoulder with fish heads on one end and the backbones of filleted fish on the other. Tobias explained that he had to feed his family with the scraps and perhaps make fish soup out of the bones, having sold the fillets to earn a little money.

Having recovered our passports from the army, bought a new suitcase to replace one destroyed on the previous flight and sorted out our tickets, we left Timor and flew back to Denpassar in Bali, hoping at last to get a night to relax there. However we discovered that our flight the following day had been cancelled, so we had to take another flight to Surabya there and then. After waiting in the airport at Surabya for a short while two men dressed in spotless white uniforms came and escorted us with our luggage to a lovely white limousine. They spoke very little English but indicated that they were taking us to a hotel for the night. Thereupon we were driven for several miles through little streets where there was nothing but grinding poverty on either side. I remember thinking if anything were to happen to us here, no one in the world would know where we were! Fortunately nothing untoward happened and we suddenly found ourselves at the entrance to a very modem well appointed hotel named the Mirama. There we discovered again the luxury of hot showers, baths and good food. We had a restful night and flew on the following day to Samarang. It was a good flight right over the mouth of the Bora volcano, a remarkable sight with the smoke still rising from it - then over vast acres of rice fields flooded by the heavy rain.
Salatyga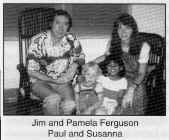 At Samarang airport we were met by Dr Jim Ferguson who brought us by taxi to his home in Salatyga. There we were welcomed by his wife Pamela and their two lovely children, Susanna, a four-year-old Indonesian and Paul, a two-year old little fair haired boy. It was good to meet up again with missionaries from Ireland and to receive food that we could enjoy. Jim was teaching English in Satya Wacana Christian University - an impressive institution with over 4100 students. Jim and I went by Denset or Trishaw to the University where we had a meeting with the Rector of the University, Dr Willis Toisuta. He is a fine Christian leader, and I was impressed with his vision of the Church.


Jim and Pamela Ferguson very kindly accompanied us to Samarang Airport some 53kms away. There we boarded a flight for Jakarta where we connected with the international flight taking us first to Singapore, Kuwait, then on to Amsterdam. Transferring to British Airways we flew to Heathrow and finally arrived in Aldergrove at 1.45pm on Sunday 27th January. Tired we were after 20 flights in 23 days and covering a distance of some 23,000 miles, more than the equivalent of going round the world. Yes, we were tired but very thankful to God for keeping us safe and for giving us such a rich and rewarding experience.

After the heat of the Equator the cold at Aldergrove seemed intense, -2° with snow on the ground and a gale blowing complete with hailstones. Vivienne Weir and Brian Menown who drove us home informed us that while we were away they had snow and cold that equalled the storms of 1947 and 1963? Fortunately the thaw had set in.

On returning to the Manse we were warmly welcomed by David, Gillian, Fiona and Harold. Alan rang because he was on duty. It was lovely to be back with the family again.

Unfortunately the tropical virus of which Kathleen had become a victim while we were in Kupang, curtailed her movements for a few weeks after we returned home.
Sister Churches English and Scottish Assemblies
Maintaining contact with other churches is most important so I welcomed the opportunity of visiting and attending the General Assembly of the United Reformed Church of the United Kingdom. The Assembly was in Southend-on-Sea from Monday 29th April rill Friday 3rd May 1985. Kathleen and I were glad to have with us the Rev Harold Graham and his wife Olive and Mr Frank Rowan and his wife Elsie. They were good companions. We appreciated the businesslike approach of the Assembly and the friendliness of the members. They gave me a most attentive hearing when I spoke to them about the Irish situation. The Bible readings each morning were given to a very attentive Assembly by the Rev Prof Buick Knox of Westminster College, Cambridge and formerly minister of Ballydown Presbyterian Church near my home where I grew up.

We took the opportunity when there of fulfilling an invitation to visit the House of Commons at Westminster, where we had lunch with the Northern Ireland M.Ps led by Enoch Powell and Martin Smyth. In the afternoon we listened to Question Time from the Visitors' Gallery.

While in London I had the opportunity of preaching in Crown Court Church of Scotland. This is a lovely old Church near Covent Garden and was originally built for the Scottish Court, which came south at the Union of the Crowns under James VI and I.




Friday 17th May saw us off to Edinburgh for the Scottish General Assembly. We had with us as our guests the Rev Harold Gray and his wife Jean and Mr Brian Menown and his wife Elizabeth. Brian was my very helpful Clerk of Session in Railway Street Church. We stayed in the Royal Overseas League, Princes Street, where we had a pleasant view of the Castle and New College.

The Assembly began with due ceremony on Saturday morning at 10.00am when Dr David Smith was installed as Moderator. The Garden Party at Holyrood Palace was held in the afternoon. Sadly it rained most of the time though it was still enjoyable. There were 3500 people present. The Assernbly proved to be an action-packed week with many vigorous debates. When the Church and Nation report was presented I was given the opportunity of speaking on the Northern Ireland situation and received a very warm reception.
Conference and General Synod

John Donne once said, "No man is an island unto himself". The same can be said of churches. I have appreciated the opportunity of fellowship of those who are seeking to serve Christ in other branches of His Church. I welcomed the opportunity of representing our General Assembly at the Methodist Conference in Portadown, where I was accompanied by Mrs Vivienne Weir and the Rev D J McGaughey of Mourne, who had been my first assistant in Railway Street. I was also pleased to represent our Church at the General Synod of the Church of Ireland in Dublin, where I was accompanied by my friend the Rev John McCaughan.

In both the Conference and the Synod we were received most cordially and made to feel at home. We soon discovered that in both these gatherings they were grappling with the same issues that we faced in the General Assembly. As we listened to the various speakers on certain topics we could have shut our eyes and identified them with similar personalities in our own Assembly!

On Saturday 25th May Kathleen and I were off to Dublin where we stayed with the Rev Dr Win O'Neill and his wife Madge. Sunday 26th May was Whit Sunday and I conducted a Broadcast Service from Howth Church. My sermon was on John 14 verse 16:- `The Spirit brings Life, Light and Love'. It proved t be a very good service.
The Year Completed

Another busy week of meetings led up to the opening meeting of the General Assembly on Monday 3`° June 1985. The Assembly Hall was crowded with many people seated on the window sills.

I delivered my closing address based on Acts 11 verse 23 'When Barnabas came and saw the Grace of God, he was glad and he exhorted them all to remain faithful to the Lord with steadfast purpose'.

After expressing my thanks to the many, many people who had supported me faithfully throughout the year, and particularly my wife and family, I then invited the Assembly to proceed with the appointment of my successor. Happily I installed the Rt. Rev Dr Robert Dickinson as Moderator and prayed for God's blessing upon him.

The following morning, as is customary, I preached the sermon at the Communion Service, taking as my text the words of St Paul in I Corinthians 13 verse 13, 'Now abideth Faith, Hope and Love these three but the greatest of these is Love'.

At the beginning of my Moderatorial year it had been my resolve to regard the whole Church as my parish and with a pastor's heart to minister in the name of Christ wherever there was need. It was also my desire to draw the various strands of Churchmanship together enabling them to see their unity in Christ and their mission to make Him known in the world. Hence the significance of my choice of a Moderatorial Motto - 'Forward together with Christ'.

I am thankful to God for His unbounded blessing upon my 'Special Ministry' throughout that 'Year of Grace'.