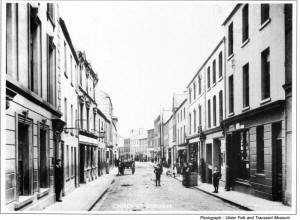 Dromore & District Local Historical Group wish to thank those who helped by providing articles, photographs, etc. for inclusion in this Journal.
As well as all their advertisers, they would gratefully acknowledge the generosity of the following, who by their subscriptions, made publication possible.
In Memory of the late Bobby Dowie,
Norman P. Weir,
R. H. Caughey,
John Poots,
Robert Boggs,
The Ulster Bank Ltd.,
D. G. Handforth,
K. D. Murray,
John Graham (Dromore) Ltd.,
William Draffin, Banbridge
District Council.
DROMORE AND DISTRICT LOCAL HISTORICAL GROUP
1991/1992 PROGRAMME
September 25 : Open Night
October 23 : Townland Names in Down Area. Guest Speaker : Dr. Kay Muhr.
November 27 : An Ulster Family. Guest Speaker : Douglas Carson.
December 4 : An evening with Sam McAughtry. This will be a joint meeting with other Historical Groups.
January 22 : Researching Local History. Guest Speaker : Dr. Bill Crawford.
February 26 : The Break of Dromore. Guest Speaker : Sam Campbell.
March 25 : The Lagan, from source to Sea. Slides of A. B. Hogg. Guest Speaker : Robert Heslip.
April 22 : Letters from Georgian Ireland. Guest Speaker : Angelique Bell. May: Field Trip.
MEETINGS COMMENCE AT 8.00 p.m. IN DROMORE HIGH SCHOOL.
ALL NEW MEMBERS WELCOME.