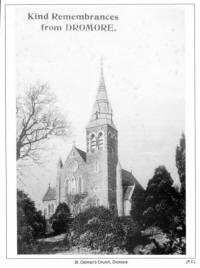 THE JOURNAL FINANCE COMMITTEE wish to thank all the advertisers for their continued support and the following subscribers for their financial help, which is greatly appreciated
BANBRIDGE DISTRICT COUNCIL,
THE ULSTER BANK LTD., DROMORE
F. A. POOTS & CO. LTD.
THE JOURNAL EDITORIAL COMMITTEE
take this opportunity to thank all the writers of the articles received, especially those who are not members of the Group. They are most appreciative of the help of those who provided photographs, etc., and assisted in any way by providing information and advice in the preparation of the articles which make up this Journal. Unfortunately they have been too numerous for all of them to be acknowledged individually, however, we trust that they will accept our grateful thanks for their efforts which proved to be invaluable.
DROMORE AND DISTRICT LOCAL HISTORICAL GROUP
1992/1993 PROGRAMME
September 23: Members Night and Quiz.
October 28: The Life of Saint Colman: Guest speaker: Henry Murray.
November 25: Co. Down Handloom Weavers: Guest speaker: Dr. Bill Crawford.
January 27: Rights of Way: Guest speaker: Nuala Hamilton.
February 24: Studying Genealogy: Guest speaker: Frank Downey.
March 24: Bishop Jeremy Taylor: Guest speaker: Trevor Neill.
April 28: Members & Guests Night.
May 26: Field Trip.
Meetings commence at 8.00 p.m. in the Masonic Hall
NEW MEMBERS ALWAYS WELCOME.