The Birth and Early Growth of the Linen
Industry c. 1700 - 1800
Mark Dewart is following an Honours Degree Course at Q. U.B. and kindly gave us access to his work on Dromore from which these extracts on the development of the Linen Industry in the Dromore area are taken.
The 18th Century saw the early development of the linen industry which was to become Ulster's and Dromore's major industry for the next 200 years. The physical conditions in Ulster provided an ideal environment for the linen industry. Linen was woven from fibres of flax and the mild, moist climate of Ulster allowed for the growth of a long fibrous stem essential for the finest yarn. But these physical advantages had to be exploited and the first step was taken when William III invited Louis Crommelin to settle in the Lisburn area in 1698. Crommelin was appointed "Overseer of the Royal Linen Manufactory of Ireland".
Crommelin's work was laid on sound foundations. The Irish textile industry had a tradition stemming back to the 15th and 16th Centuries for the production of fine yarns. Also in the 15th and 16th Centuries there had been a steady migration from the North of England into the Lagan Valley area of people who had an indepth knowledge of textiles. The consequences were that handloom weaving and bleaching was well practised by the time Crommelin arrived.
The Lagan Valley also provided a favourable position due to its swift tributaries enabling water powered machines to be used for the finishing of cloth. The Lagan also aided communications by allowing bleachers to collect unbleached cloth from all over the north.
The linen industry at this early stage would have had little effect on Dromore's townscape. This was because the linen industry was still a cottage industry and not factory based. Linen was fully integrated into the agricultural system as a method of supplementing agricultural earnings. All members of the family were involved, with the land providing the subsistence existence supplying oats, potatoes, flax and milk. After the linen had been woven and spun on the farm, the unbleached linen was brought to the Brown Linen Markets where drapers bought it. These were the middlemen linking the producer to the merchant. The draper bought the linen, bleached and finished it then he had to carry it to be sold in Dublin which was the only major commercial centre in Ireland; this exemplifies the still primitive nature of the Irish urban system.
Although the nature of the linen industry in the 18th Century was that of a cottage based industry in a rural setting it did have some effects on the development of towns. The morphology of Dromore remained largely unchanged as the linen industry was still a branch of agriculture and did not locate in the town.
However the linen industry reaffirmed the role of many a town as that of a market centre. Fine brown linen halls were built in Lurgan and Belfast. (They were termed Brown Linen Halls as the linen was sold unbleached). A more modest Georgian linen market hall was built in Dromore in 1752., E.R.R. Green claims that considerable quantities of linen were sold in Dromore, however, it was too near the great Banbridge linen market to develop. This indicates that Dromore's later role as a secondary linen town compared to larger nearby centres such as Lisburn and Banbridge had already been established.
Dromore's primary function in the late 18th and early 19th century was as a market centre for linen and agriculture. Dromore had the only flax market in the Lagan Valley. Meal and potatoes were sold in the market house, with meat sold in the adjoining shambles. The market was held every Saturday, plus five fairs were held annually selling cattle, sheep, horses and pigs. Dromore was to act as the market centre for the middle tract of the Lagan Valley and a greater part of the mountain tract. Dromore's role was typical of most inland Irish towns.


THE MOVEMENT OF THE LINEN INDUSTRY INTO DROMORE c 1800 - 1840
Dromore also experienced this expansion in the bleaching industry because of its position on the River Lagan. The only evidence that I found of the existence of numerous bleachworks in Dromore in the early 19th Century came through retrospective comments. The Lewis's Topographical Dictionary of Ireland in 1837 commented that there were formerly several bleach greens at work in the vicinity of Dromore, but now there was only one. This comment was echoed by a Dromore Presbyterian minister who in 1836 said:
"We had formerly 6 bleachmills and greens, now only 1".
The one bleach green which still existed probably belonged to the firm of Messrs. Thomas McMurray & Co., who established a bleachworks at Quilly to the south of Dromore in 1827.
These comments also indicate the decline in the number of bleachmills which occurred in Dromore and the rest of Ulster. By 1850 there were only 90 bleach mills left in Ulster but they were, on average, much larger than those which had operated in the earlier years. The decline in the number of bleach mills started from about 1800 due to growing competition from the cotton industry in Ireland and England. Another reason is that the highly capitalist nature of the linen industry meant that only the most efficient survived and consequently many of the smaller bleachmills became uncompetitive - this would also account for the increase in the average size of bleachmills.
The decline in the power and number of bleach mills was compensated in Dromore by the location of other branches of the linen industry in the town. The cambric industry (which is a finer quality of linen) concentrated itself in Lurgan, Dromore and Waringstown. Thomas Scott moved his premises to Dromore in 1817 and became regarded as one of the principle manufacturers of cambric in Ireland. This was a high value product with it's selling price reaching as much as 1 guinea per yard and it's processing requiring skilled labour. Thomas McMurray would also boost the linen industry in Dromore by adding linen weaving to his bleach works soon after his arrival in 1827.
Map 3.6 also indicated how the location of many of the processes were related to the river, with almost all the industry concentrated on the banks of the Lagan, showing that water was the still the power behind the linen industry.
By the 1830's Dromore had experienced a growth of the linen industry in the area surrounding the town. Map 3.7 is an Ordnance Survey map of Dromore in 1833 and although the street plan has remained relatively unchanged since the 18th century, there has been some tangible evidence of the growth of the linen industry. There was development of houses along Meeting Street and Mount Street, which were constructed in the early 19th Century as homes for textile workers. These houses were typical of much of the housing development built for linen workers being modest two-storey houses, "built with the hill". The only other major change to the street plan was with the construction of Prince's Street leaving the north-east of the square on the road to Hillsborough. The weaving and spinning industries were still relatively primitive and had yet to experience the industrial revolution. Consequently Dromore like the rest of Ireland was still a rural, agricultural society. With the exception of the dramatic growth of Belfast, the urban populations in Ulster had remained small. The conditions had not yet been created for the rapid expansion of the linen industry, and Dromore's main function remained that of a market centre.


.....and even younger!
The Dromore and District Historical Group wish to thank all the Primary School children who so ably supported the Civic Week story writing Competition. The Winners in each age Group were as follows;
The theme of emigrating from Dromore during the last century provoked a wide range of response from local children.
We were regaled with stories about the ghastly journeys across the Atlantic in which so many perished. Incarceration at Groose Island was also mentioned as were encounters with the native Indians.
Among the reasons mentioned for leaving Dromore the potato blight and subsequent famine came high on the list, but the search for work and in one case for a husband! were also given priority.
Feelings of homesickness were, for the most part, outweighed by the relief and happiness at the security found in the New World. Offers of help and money were sent home and promises made of coming back for a holiday - sadly there was no story of a triumphal return.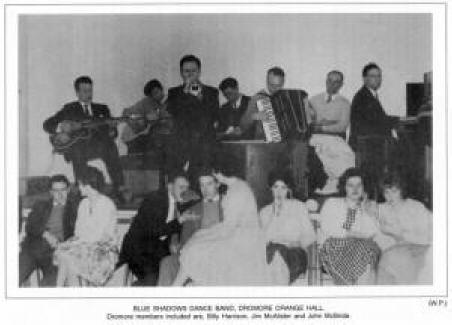 `THE WAR YEARS'
By Jim McAlister
I joined the firm of John Graham (Dromore Ltd.), Building and Engineering Contractors, Lagan Mills Dromore Co. Down on the 21st March 1938 and completed my apprenticeship of five years and remained until the 11th of September 1945. Whilst serving my apprenticeship
I was sent to Banbridge Miles Aircraft Ltd. where I was engaged for some time on the construction of Mosquito Timber Framed Fighter Aircraft, and subsequently to Stormont to a course in Steel Bridge Construction to the best of my knowledge under the direction of Army personnel. The reason was that people trained in this particular field of design and construction would be on standby if required during an emergency to take charge of and supervise the erection of a new temporary steel replacement structure. In addition whilst serving my apprenticeship I was responsible for the design of the artistic work which was displayed on the gable side of Dromore Town Hall for:
(1) Salute the Soldier Week
(2) Salute the Airforce Week
(3) Salute the Navy Week
My father was mainly responsible for the latter and I helped him with the construction of a detailed model of the `Ark Royal' which was taken around the streets of Dromore to raise money for the Navy. Eventually I was informed that the Royal Naval Cadets at that time were presented with the model. I often wonder if it is still in existence.
I would also point out that my father was one of the founders regarding the name "Dromore United" and assisted in choosing their colours, amber and black, in which I think they still play. He was also a flautist in the Bruce Hamilton Band. My father was a Master Craftsman and was in partnership with Mark Gardiner, my uncle, i.e. Gardiner and McAlister Building Contractors, located adjacent to Dromore P.E.S. (now the Church of Ireland Parochial Hall). The site is now owned by Mr. Bertie Tinsley, car dealer. I think it was called Sheiling Hill.
The above firm carried out much work in Dromore and district e.g. Church work, schools and houses etc. Banbridge Road Church and Magherabeg School house, to the best of my knowledge, were built by them.
Eventually the partnership discontinued and my father joined up with John Graham Ltd. and remained there until retirement. My uncle was appointed Clerk of Works in charge of the Banbridge Road School being built at that time. Now the present Dromore Central Primary School.
I would also like to tell you about my brother in law Jim Gracey, who left Dromore in October 1947 to go to California. A farewell party was held in Dromore Orange Hall. I was approached and asked to provide music on the piano accordian . At that time I had no idea that Jim would be my future brother in law. When Jim left Dromore it was said jokingly that he may end up on the films and by coincidence this did happen. Jim was attending an Irish Dance and was picked to take part in the film "Luck Of The Irish" starring Tyrone Power and Ann Baxter. He took an active part in an Irish Dance scene. The news of this, when the film came to Dromore resulted in a sell out at the local cinema in the Town Hall.
Jim also held a responsible job with Lockheed Missiles and Space Co. in the capacity of supervisor in Quality Engineering.
He was promoted to the rank of Staff Sergeant in the American Army in 1948. He saw service in Germany and three years in Tokyo, Japan.
--Jim McAlister formerly of Gallows Street, Dromore

GRANDAD'S ARMY
By Sam Johnston
I had intended to someday write my own memoirs about my time in the Home Guard in the early 1940's. Being retired one has ample time for such an exercise, but procrastination being my constant companion I kept putting it off to later. However, Jim and Alison of the Dromore Historical Group pressurised me constantly to produce it in time for this year's Journal, and what with the 50th Anniversary of `D'-Day being celebrated in Europe, I realised with a mild shock that I had been demobbed over half-a-century ago and time was no longer on my side; that I could be heading soon for senility, and what had been cynically called "Dad's Army" was now "Grandad's Army". So I'll rummage through my creaking cranium and try to stir up some thoughts of those stirring times.
After Germany had invaded Poland in 1939 there were months of inactivity which were dubbed the "Phoney War". Hitler put an end to that, and was now playing-for-keeps in 1940 when his armies over-ran Europe and was mounting an imminent invasion on Britain itself. It was the time for all good men to come to the aid of their country and the Local Defence Volunteers (L.D.V.) was formed from the civilian population. They were later called the Home Guard, or mockingly, Dad's Army. The late George Formby who was in his prime then singing silly songs on his Ukulele, poked fun at us by singing a number called, "I'm guarding the home of the Home Guard". One verse went something like this:
I'm guarding the home of the Home Guard,
I'm guarding the Home Guard home.
All night long steady and strong,
Doing what I'm told and I can't go wrong.
Now one night as an L.D.V.,
Four big Germans I chanced to see,
They ran like the wind but they couldn't catch me,
When guarding the Home Guard home.
Being only sixteen years old I was two years short of the enlisting age, but on the assumption that I could pull a trigger or stop a bullet in spite of being on the young side, I was admitted to the ranks. We were an amalgamation of Dromore, Dromara, and Waringsford and were officially known as "D" Company, 4th Down Battalion. Major William Copeland was our commanding officer and tailor-made for the job as he had done some soldiering in his early days, and knew what army life was all about. When he marched at the head of his column of men on parade he was every inch a soldier and he had our respect.


Our drill hall was a disused stitching factory in Meeting Street, the entrance was opposite Mr. John McGrehan's shop and known as Scott's Entry, and was situated where the houses in Brewery Lane now stand. It was quite roomy and ideal for the job and it was here we learned the rudiments of war.
We were issued with rifles and had to remember the number stamped on a little boss on the end of the barrel. It is also stamped in my memory to this day - G7621. We had rifle-drill and inspection, for after a day on the rifle range the sooty deposits left behind in the barrel had to be washed out with a kettle of boiling water, followed by a lightly oiled piece of cotton cloth pulled through the bore. It was truly a "boring" exercise and inclined to be neglected by the lazy element amongst us. It was a common sight to see three rifles standing like a tripod when not in use. This is achieved by interlocking a little metal "cleek" near the end of the barrel called a piling swivel. One private when asked by his C. O. to describe it's function said in confusion that it was a "swiling pivel" and if you had any swiling to do, this was what you pivelled it with!" When our instructor was explaining the various rifle parts he made particular mention of the smallest part with the longest name. It was to be found at the base of the calibrated rear sight and measured a mere 3/8 of an inch and was called "The radial-arm axis washer retaining pin". Which you will agree, was a rather grandiose name for such an insignificant component. I made a conscious effort to remember this information, but looking back I can't claim that this knowledge played any significant part in the defeat of Germany!
We were also issued a cloth bandolier of 25 bullets and were under strict orders to remove and conceal the rifle bolt which would render the rifle useless should it be stolen. I had not as yet fired the gun and was very wary of the live ammunition, but before I put them away that first night in my bedroom, I was foolishly brave enough to experiment and loaded a clip of five bullets into the magazine. Getting them out again entailed working the bolt in and out five times to eject them - and I took cold feet. I was certain that I would do something wrong and blow a hole in the ceiling, or worse! To be on the safe side I opened the window and pointed the muzzle - along with my prayers - heavenward, and with hammering heart, heard the bullets come clattering out to the accompaniment of my chattering teeth. This war was a serious business!
Then there was the bayonet which hung from a scabbard slung from our belt. It was a sinister looking piece of cutlery and when mounted on the end of the rifle we would practice lunging at an imaginary enemy, aiming for the throat or the groin, though in the heat of the battle any part of the enemy anatomy would have done! Major Copeland possessed a noted dry wit which came to the fore when he once lectured to a squad of men on the do's-and-don'ts of bayonet fighting. "Don't", he said, "penetrate your enemy by more than three inches, more than this is extravagant and time-consuming." (I was tempted to ask how one measured three inches in the heat of the battle.) "Do remember to withdraw your bayonet from your adversary's body as he gets very hard to carry on the end of your rifle after a few hundred yards! Don't fling him over your shoulder like a sheaf of corn as you are liable to blind your buddies charging in the rear!" Fortunately, we never had to put these tactics into practice. Rumour had it that one private in Dromara had mastered the act of swallowing his bayonet after seeing sword-swallowing performed at a circus. He said the trick was, he swallowed the scabbard first which prevented the bayonet from nicking his neck!.
If the bayonet was a rudimentary killing weapon, the Spigot Mortar was anything but. It consisted of four heavy metal tubular legs that fitted horizontally into a base-plate which anchored the whole assembly to the ground. The barrel and firing mechanism pivoted on the base-plate and was manned by four men. It fired anti-tank and anti-personnel missiles weighing up to sixteen pounds, and it was a brute to assemble. The only safe place to fire this ungainly killer was up at Slieve Croob, to where it was transported in an obliging grocer's lorry! There, under the scrutiny of a Regular Army Major - an Englishman - we fired at large rock formations posing as tanks at around 300 yards range. Our squad were allowed one shot each and our first two anti-tank bombs were an anti-climax as they landed in boggy ground and failed to detonate. But I can still feel the exultation when my shot was "dead on" and exploded in a cloud of black smoke and a frightening detonation which reverberated around the hills. When we packed up and left, the Major remained to locate and blow up the unexploded missiles, and we didn't envy his task!


The annals of warfare are stippled with accounts of mountain confrontation such as The Battle of Bunker's Hill, The Battle of Vimy Ridge, and The Battle of Monte Casino, and I would add to that list The Battle of Slieve Croob, in which the Home Guard played an insignificant part!
We had just unloaded the cumbersome Spigot Mortar and were about to commence firing when the enemy appeared over the brow of the hill in the person of an old sheep farmer who lived in a little stone built house nearby. He informed the English Major that there would be no more firing of weapons as they were disturbing his sheep which would soon be lambing. The Major, with an imperious wave of his arm, brushed the old man's protestations aside and gave him a short lecture on the more pressing importance of winning the war compared with coddling pregnant sheep. The old fellow said no more but produced a letter marked O.H.M.S. and handed it to the Major. It was from the Ministry of Agriculture, and addressed to whom it may concern, and stated that in the interest of food production, no weapons or manoeuvres of any kind were to be discharged during lambing season. The Major fumed and flustered. If needs be he was prepared to go down fighting against the Hun! But to capitulate to a lone shepherd flaunting a piece of paper was as debasing as being demoted from Major to private! As for the rest of us, semi-hardened soldiers that we were, we had been beaten by a lone farmer, a peasant, and we retired like gentlemen. You will notice that I use the word `RETIRED' rather than `RETREATED', for the latter word smacked of a disorderly rout and was not in our Home Guard vocabulary!
We had our rifle range in a field called Wallace's Meadow, a tract of land that ran from Maypole Bridge to Holm Terrace. It was ideal for the purpose for the targets were placed at the foot of the very high railway embankment which smothered stray bullets. A small stream bisected the field and was easily forded as it contained little water. But once after a thunderstorm and cloudburst it became a raging torrent. We arrived for shooting practice in full combat gear and rather than make a long detour to reach our firing point, the younger element found that with a fast run we were able to jump across. Our most elderly private, Old Jimmy, was game to have a go, and with his helmet on his head, his rifle in his hand, and his gasmask slung across his chest, he came galloping down and took off from the bank, and might have made it had not his gasmask, which should have been secured by its string, bounced up and hit him full in the face. He fell like a shot snipe into mid-stream and waded out shaking himself like a water spaniel! Apart from his pride nothing else was hurt and he was taken home in a "field ambulance" in the guise of a grocer's lorry! Nothing daunted, he changed into his civvies and returned to finish the course.
I cannot speak of Wallace's Meadow without recalling a near fatal accident that happened there during rifle practice. The exercise was on orders to stand and load the rifle, place a live round up-the-spout, apply the safety-catch, crawl ten yards, and fire at will. The first squad to go was composed of `B' Specials who were inducted into the Home Guard and were receiving orders from their Second Lieutenant. He stood in front of them and gave the order, "Standing Load", which they did, only for one man to absentmindedly pull the trigger. The unexpected crack of the rifle and the whoosh of the bullet over the officer's head stunned every man there! When the officer realised he was still alive he fired a volley of colourful expletives at the errant rifleman. When he had run out of oaths and breath Major Copeland refreshed his memory and berated him with a few more livid ones, for, as he said, "Only a blankedly blank fool would give orders standing in front of men handling live ammunition". It was sheer comedy for the rest of us standing around. Comedy sharpened by the relief that nobody was killed!


Shortly after that I did lose a good friend - my rifle. It was taken from me when they issued me with another weapon called a Grenade Cup Discharger. I was loath to part with G762I for when I had cleaned and polished it, carried it on parades and manoeuvres, and seldom let it out of my sight, it was almost a part of me, and there was a certain dismay when another rifle took it's place. The fact that only a few Cup Dischargers were issued helped to soften my regret, for they were a much envied weapon. They were modified rifles, having the barrels bound with whipcord to prevent them splitting when the grenade was ejected from the metal cup affixed to the barrel, by a cartridge of compressed gas. So severe was the recoil, they could not be fired from the shoulder. Instead, the butt was placed on the ground and rifle held at an angle around 45 degrees by the kneeling marksman, to avoid damage to the forefinger it was whipped smartly out as it pulled the trigger. The exercise once led to a Guardsman jerking his rifle from it's 45 degree position to the perpendicular, sending the grenade vertically overhead. Someone shouted the four-letter word, requisite for such occasions, "DUCK", and we all shrank as small as possible beneath our steel helmets, mingling oaths and prayers which were answered when the grenade exploded harmlessly away above our heads. It had been a close encounter!
One Sunday afternoon we were alerted to muster at the Drill Hall! An emergency had arisen when some German prisoners-of-war had escaped from a camp at Scarva. Our orders were to search Gillhall demesne which, with all it's bushes and undergrowth, afforded a likely hiding place for escaping prisoners.
We approached from the Quilly Road direction and having spread out, we advanced towards likely cover. Even now I can feel how vulnerable we were had there been a do-ordie armed German waiting to pick us off as we neared his hiding place! It heightened my perception of the bravery of our soldiers who advanced up the beaches of Normandy on DDay. In the event we scoured Gillhall, and put it all down to experience. We took no prisoners!
During the annual weeks holiday off work in July our Battalion was taken to army camps for more intensive training. The three bases we attended were at Ballykinlar, Narrowwater Castle where American G.I.s had just left to be deployed in England in readiness for the D-Day invasion, and Ballycastle, our billets there being requisitioned guest houses. A number of ladies from Dromore and Banbridge districts who were members of the Women's Voluntary Services (W.V.S.) under the direction of a Regular Army Sergeant Cook, saw to all culinary needs, and if an army marches on it's stomach our Battalion didn't lack mileage!
When we were based at Warrenpoint, and the Irish Free State, as it was then called, had taken a neutral stance, and as Omeath lay just across Carlingford Lough it was out of bounds for British soldiers, so our fellows brought their civilian clothes with them, and dressed in these, they made evening sorties in the ferries that plied between both towns. Their objectives were to invade the pubs in Omeath and consume the cheap liquor which was in plentiful supply. Fortunately, none were interned or shot as spies for they all returned safely if not soberly! One night four such gentlemen returned home to their billet, which I shared with them, as "tight-as-drums", and as they prepared for bed they decided to have a cursing match! I was once told by a clergyman that there are basically about four such oaths (and who am I to question that?) and our four heroes were frustrated when they couldn't think of any more, and soon fell into a drunken stupor. My abiding memory of that inglorious night was of one of them partially undressed, on his knees, bent forward with his forehead resting on his pillow, snoring away in this suppliant posture!
When attending these camps we had to do our stint of guard duties, operating out of the guardhouse on a 2 hours on, 4 hours off rota throughout the night. One guard showed his bravery by lying down in his sentry-box, wrapped up snugly in his great-coat, and a small bottle of whiskey at the ready to keep the elements out, if not the enemy at bay. As far as he was concerned all was quiet on the western front!


I have mentioned the great-coat. We were allowed to keep it after we were demobbed, and many were pressed into service as an extra blanket, there being no electric blankets in those days. I knew of one such coat which was still being used on the bed, especially on cold nights, long after the war was over. Indeed it was not until he brought his bride home that she delivered the ultimatum that either it went or she went. But no way would the three of them share the bed simultaneously. So the coat was pensioned off- it being well past the pension age anyway - and a new bedspread was purchased in Lisburn market the following Tuesday. The stall-holder assured them that he had sold hundreds of such bedspreads throughout Ireland and they covered a multitude of sins!
It was an Army Order that under no circumstances was a soldier to surrender his rifle to anyone - not even the King - when on guard duty. To test one man's understanding of this a C.O. doing his rounds of the camp asked a guard what his duties were, and he said he was guarding the riflehut. He was then requested to hand over his rifle for inspection. On so doing his C.O. pulled the trigger and blew the man's cap off and then berated him for being so foolish in relinquishing the gun. The trembling soldier retrieved his cap with the bullet hole in it, and the C.O., relenting, gave him a few shillings, saying it was for the damage to his cap. "Thank you very much sir", said the soldier, "and what about the damage to my trousers?"
Another mishap allegedly happened to a platoon of Home Guards who were on a night manoeuvre which entailed them advancing across a field in complete darkness, in what was known as "pepper pot formation". One man suddenly remembered seeing a large bull in the field that morning, and told the Major that the bull was dangerous. He promptly blew the recall whistle and everyone retired to the roadside, where a quick roll call revealed one man missing. The Major gave another blast on the whistle, and immediately there was a commotion away across the field. Eventually Old Jimmy appeared out of the night, very dishevelled and bedraggled. On being asked what delayed him, he explained he had been knocked down by a cyclist in the darkness, but he had managed to get to his feet and had a firm grip of the handlebars, and only he had heard the whistle, he would have taken the bicycle off him!
About once a year we went to Ballykinlar Army Base for shooting competitions, where the "Dead Eye Dicks" from the various companies competed for cups and trophies. Big stories had been circulating about the prowess of some marksmen. We put out a story that due to a faulty rangefinder on his rifle, which was stuck at 100 yards range our marksman was still able to hit the 200 yard bullseye every time by bouncing the bullets off a boulder half-way down range! We had one very consistent rifleman called Davy and we were sure he would be amongst the prizes. Instead, he had one of the lowest scores. It transpired he had borrowed his pal's rifle which looked very new in comparison with his own. It brought home to us the proverb, "Never change horses in mid-stream".
However, all was not lost for in a Young Soldier's Plate competition for teams of four junior marksmen, and of which I was a very proud private, we beat all comers. We were elated, but none more so than Major Copeland. He held the Cup aloft as though it was the spoils of war. I still have the photo that appeared in the local press of our winning squad. Sadly I'm the only living member.
In December 1943 the Home Guard was "stood-down" in a final parade in Banbridge. Hitler was on the retreat and his intended invasion of Britain was like a bad dream that evaporates with the morning.
I suppose you could say we were only playing at war in the Home Guard because we never came to grips with the enemy, but handling lethal weapons brought it home to us what the Regular Army and other Forces were up against when they battled, and finally flattened Germany.
When the yearly Remembrance Day Services take place on the 11th November and Binyon's lines are spoken for the Fallen, it is with the utmost and heartfelt sincerity that I repeat, "We will remember them."