CHAPTER 5
BAPTISMS
If there was any question at all on the character of parents applying to have their children baptized, they had to appear before the Session.
For example in 1807, quoting from minutes - "three men Alex J-, William R- and Thomas R- were dealt with by the Session for bad attendance at public worship, also because of their ignorance of the principles of the Gospels necessary for parents to know. Thirdly on account of some irregularity of conduct on the Lords' Day returning from a funeral at a public house at Bailliesmills. They were rebuked and their case published to the congregation. But showing repentance their infants were baptized."
On 15th March 1829 Robert R- applying for baptism of his child, which was born eight months after their marriage caused some fuss. Robert said his wife had had a fall, which had brought on a premature birth. This didn't sat isfy and Dr. Rutherford (who lived in Woodvale, which later became the home of Jim Eddie), was called in to give his opinion.
He said he believed the child to be premature, and because of the standing and character of Dr. Rutherford, his word was accepted and the child was duly baptized.
Very interesting is the number of baptisms each year. In 1804 there were 34. The boom year was 1806 when there were 40. These figures kept faily steady until 1860 when there were still 35. In the 1870's numbers showed a very slow decrease, and by 1880 only 14 and 1900 - 12, less than half of what there had been a hundred years earlier. This decrease is thought to have been the result of the potato famine in the mid 1840's when a million people in Ireland died, and as many more, especially young folk, emigrated, and even after the famine, continued to emigrate. By 1920 there were only seven baptisms decreasing to today's annual average of three or four.
Parents, in the old days had to pay 6.4d to have a child baptised. If not paid at time of baptism the elder in charge of the district called at the house for it.
In 1830 parents seemed unwilling to have Baptisms publicly administered, as they should be. This was probably due to the distances which had to be walked. At any rate it was resolved that Baptism must be administered in the Meeting House, except the child or father (mother not mentioned) through sickness be unable to attend public worship or they live two miles or more from the Meeting House.
This rule seems to have disappeared in Rev. J.N. Moorhead's time. he was quite agreeable to administer the Sacrament in the home.
In Rev. Creelman's ministry Church Baptisms were revived again, but not insisted upon.
Our Baptismal font was presented by the P.W.A. in 1962, and at the same time the Reading Desk and Bible was given by Mary Reid in memory of her parents.
It was in 1957 that Elders first accompanied parents during baptism. The only other time this was done was when Baby Shannon Watson, grand-daughter of Rev. Tommy Watson, all the way from Canada, was baptised in the mid 1950's. Two senior Elders John Scott and William Irvine accompanied the parents. Shannon was brought especially to Loughaghery for her Baptism.

CHOIR
The first mention of choir was in "The Witness" on August 2nd 1895, when after the renovations, the choir space, which I have previously mentioned, was described in that paper. But in the first half of the 1800's there was a precentor - Thomas Gracey. He is mentioned in connection with the Communion services and was paid 7s. 7d. for the extra work involved at that time.
There was no choir at that time, he, alone led the singing. There is no evidence to show when Thomas Gracey left the scene, but the next precentor mentioned was John Andrews of Clintagh. He was paid £8 yearly and resigned in 1911, but whether there was a choir or not is not clear.
Money was apparently very scare, for in March 1908 Mr. Andrews wrote to the Committee to say he had not received any salary for 1907 and that 3s. 3d. was owing from 1906. To meet this bill the committee arranged a special service. Rev. Gregg, Dromara preached at it on 18th June 1908. They had three hundred tickets printed and sold at six-pence each as well as special collectors. In future it was decided to collect from house to house for the precentor, at a time when no other collections, as stipend, sustentation or pew-rents were made.
From 1911 until 1920 there seems to have been no precentor, maybe they couldn't get anyone. I am told Mr. R.W. Beatty, who had been in Anahilt, but had some dispute there, helped out at times, but he eventually went back to Anahilt.
In 1920 Mr. W.E. Hawthorne, Cargycroy, was appointed at a salary of £15 yearly, and certainly by that time there was a choir. According to records he was asked to come along one night weekly and train any young people interested in music. W.E. Hawthorne was a character, but a born musician. He used a tuning fork, which gave the note middle C and from that he could transpose it into whatever key the tune was set in.
Usually he sang bass, and sometimes tenor, of if the sopranos were weak he joined them. One little weakness he had was arriving late, leaving the choir struggling on their own. On these occasions as soon as he came into the aisle he started singing, and sang right down to the front. But he was excused these lapses as he had his own problems, being a widower with four young children.
I remember one Sunday Mr. Moorhead had announced the Psalm and verses to be sung. The choir got to their feet but Mr. Hawthorne corrected Mr. Moorhead about the singing. I can still see Mr. Moorhead looking down at him over his glasses, and saying in his forthright way "Get on with your work." There was nothing for Mr. Hawthorne to do but get his tuning fork going.
As a token of gratitude Mr. Hawthorne received a cheque for £22 at a social on 18th January 1929. This had been specially collected from the congregation.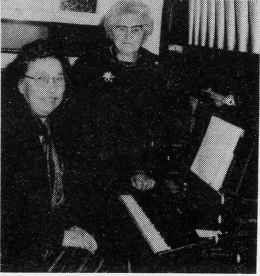 Mrs. I. Scott with Miss M. Irvine, who has been a choir member for seventy-two years.
As previously mentioned hymns were first introduced in 1938 under Rev. Creelman's leadership. In 1942 the first organ was installed, after much deliberation and discussion and after a congregational vote by a majority of seven.
It was a pedal organ and it was dedicated on a beautiful mid-summer's day - 21st June 1942, amid a great feeling of excitement. The choir sang two anthems, "How amiable are thy Dwellings" and "As pants the Hart" to packed houses. Mr. Robert Moorhead played for the opening Sunday. Miss Nora Moorhead was the first organist for five years until her marriage in 1947 at a salary of £26 yearly.
She was succeeded by Mr. W. H. Adams, Lisburn at £40 yearly. It was in Mr. Adams' time that the present pipe organ was installed in 1951. It came from Mulavilly Church of Ireland, and our little organ went to Ballynahinch Congregational Church. Mr. Adams left in 1955 and our present organist Mrs. Isabel Scott began work, thirty-three years ago.
On 13th December 1981 the new choir room was opened, a wild snowy evening. To help with funds the choir beforehand held Sales in Lisburn Markets, started the collection of waste paper and held concerts. Our first effort was a -party on New Year's night 1979. Everyone in the congregation got a printed invitation, but unfortunately the weather was unfavourable, roads were blocked with snow and temperatures were very sub-zero around minus 15. Fifty people turned up; we had an enjoyable night despite the snow and so began the Choir Room Fund.
The clock in the Choir Room was given by Jean Stewart (nee Scott) a previous choir member in memory of her parents. A plaque was donated in memory of Jim Eddie by his family. Jim had been a member of the choir since he was a lad of twelve until his final illness. Mr. & Mrs. Fred Clarke presented the blue curtains at the organ and choir seats at the same time.
ÝTop
Another person worthy of note is Minnie Irvine. She was a member for over seventy years from the age of twelve until lately, surely that must be a record.
ÝTop
The following lovely poem has a flavour of romance about it with choir connections.