Fresh Oil Church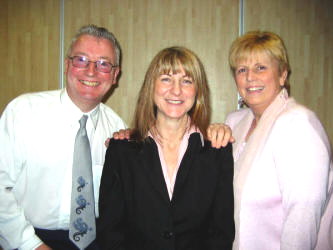 Pastor Sheila Smyth (centre of picture) with George and Winifred Jackson, leaders of Fresh Oil Church
Between Derriaghy Gospel Hall - and - Harmony Hill Presbyterian Church
Leader: Pastor Sheila Smyth
Telephone: 028 9260 3342
Services: Sunday Morning: 11.00am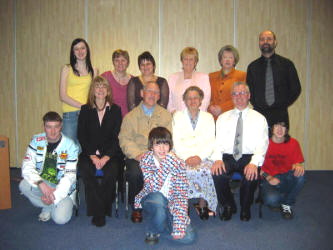 Leaders and some members of the congregation of Fresh Oil Church. L to R: (seated) Pastor Sheila Smyth, Robert Crockett, Martha Fulton and George Jackson with Paul Kinghan (left), Nathan Smyth (front) and Alan Alexander (right). (back row) Rebekah Smyth, Caroline Wilson, Sharon Brown, Winifred Jackson, Dorothy Bell and Sam Alexander.
Brief history as recorded in a book 'Lisburn's Rich Church Heritage' by John Kelly
Fresh Oil Church commenced in January 2005 and first met for worship in Lagan Room 2, Lisburn Leisureplex. Since July 2006 meetings have been held in a temporary hall to the rear of 1 Linen Court (near Hilden Primary School) at 11.00 am on Sundays. The new church is also being used daily for prayer and to serve the people of the area.
The name Fresh Oil was chosen because it speaks of a Fresh new move of the Holy Spirit. The Pastor, Sheila Smyth, is a very gifted musician and a lot of new music and worship songs have been birthed within Fresh Oil as they have a strong emphasis on worship, and the desire to see and hear new songs being written. They regularly take the studio theatre in the civic centre and have worked with many good musicians at this venue. Fresh Oil also runs a Christian single parent work, which offers support and help to single parents, and their children.