Lisburn Congregational Church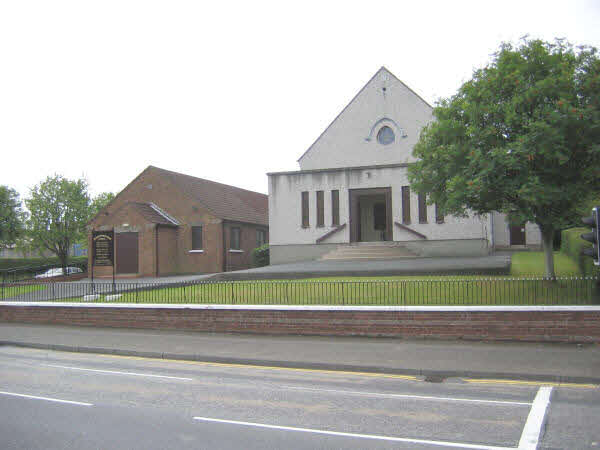 Lisburn Congregational Church, opened in 1877.
Website www.lisburncongregational.co.uk
Minister: Rev. Stephen Hanna (9266 3958)
SUNDAY ACTIVITIES/SERVICES
Morning Prayer Meeting - 8.45am
Sunday school - 10.30am
Morning Worship - 11.30am
(Crèche and children's church facilities)
Evening Worship - 6.30pm
Note: both services are preceded by a prayer meeting 30 minutes. before)
Prayer Meeting and Bible Study - Thursday's 8.pm
Holiday Bible Club 2011 4th - 8th July
---
SEPTEMBER 2010 - JUNE 2011
CHURCH ACTIVITIES
MONDAY

Ladies Meeting - 8pm

TUESDAY

Prayer Meeting - 10am

Men's Meeting - 8pm

Boys Brigade - 7pm & 7.45pm

Craft Corner - 7.30pm

WEDNESDAY

Parents and Toddlers - 10.30am

Girls Brigade - 6.45pm

THURSDAY

Bible Study & Prayer Meeting - 8pm

FRIDAY

Girls Brigade - 3pm

'Jay Club' children's meeting (4yrs to 11) - 7.pm

Youth Fellowship - 8.15pm

SATURDAY

Anchor Boys - 10:30am
HISTORY
Lisburn Congregational Church had its beginnings back in 1870 when the Moorhead family, former members of Donegall Street Congregational Church came to live in Lisburn. Mr Moorehead gathered a few neglected children into a private house in the Back Lane and there he taught them on Sunday evenings. Weeknight Prayer Meetings followed, and these were so well attended that the place became too small. On taking advice from his former minister, Rev. John White and friends in Belfast, the decision was taken to rent rooms in Gregg Street, in what had previously been known as Magee's weaving factory. At very little cost this was made into a fairly comfortable hall.
The Congregational Union placed the work in the care of the Rev T J Forsythe, and in 1873 a Congregational Church was formed. The work prospered and in a few years it became evident that a more permanent church was needed. Sir Richard Wallace generously gave the present site on the Saintfield Road for a church, schools and manse. The first stone of the present church was erected on 24th March 1877, and the church was opened for worship the following October.
In 1957 the church hall was erected and was opened on 10th November 1957 by Mrs. Thomas Chapman. Until the mid 1960s a hedge enclosed the church and a path from the church led across to the manse next door. In 1973 a porch was built on to the front entrance of the church and in 1981, a gallery was added to accommodate the growing congregation. The Manse was demolished in 1984 and a new car park provided. In 1990 a vestry, choir room and upper room (behind the pulpit) were added to the church, as well as transepts to provide extra seating. A facility for adult baptism was included at this time. In 1993 a spacious new hall was erected at the rear of the church. A Service of Dedication and Thanksgiving was held on Wednesday 8th September 1993 and Mrs Ruth Fox performed the Official Opening.
From 1873 until the present day the church has been faithfully served by a total of 15 ministers. The Rev Harry Rea, who began his pastoral work here in October 2003, retired in June 2009. Mr. Rea previously served on the staff of the Belfast City Mission (1975-1982) and has been minister in both Newtownards (1982-1996) and Larne (1996-2003) Congregational Churches.
The above article is compiled largely from Mavis Heaney's book 'Lisburn, Life in the County Down'.
22/08/2009