Seymour Street Methodist Church Lisburn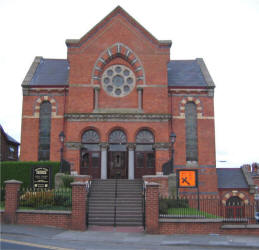 Seymour Street Methodist Church, Lisburn, opened in 1875.
Rev. Brian Anderson
Minister
Rev. Winston Good
Assisting Retired Minister
Seymour Street, Lisburn.
Minister: Rev. Brian Anderson
Telephone: 9266 2303
Sunday worship:
Morning: 11.30am
Evening: 6.30pm
During July and August the congregation joins with some neighbouring churches for Summer Epilogue Services at 8.00pm.
Web site: www.seymourstreet.org
| | |
| --- | --- |
| | |
| The sign at the first Methodist Preaching House in Lisburn. The building in Market Street, Lisburn is now used by the Christian Workers' Union and the hall was, in 1914, "The Lisburn Electric Picture Palace". | Notice Board |
HISTORY
John Wesley attached such significance to Lisburn that he visited it on several occasions, and it is claimed that the Lisburn Methodist Society was one of the earliest founded In Ireland. During the years it has grown in strength and influence. Great crowds were attracted by John Wesley's preaching, and it soon became obvious that a place of worship was needed. Eventually all obstacles and opposition were overcome and a site was secured in Market Street. A building was erected on the site now occupied by the Christian Workers' Hall, and was opened for worship in 1772. Methodism progressed in Lisburn, and a site was sought for a new church. Sir. Richard Wallace gave a plot of ground at the junction of the Belfast and Low roads, and the church, costing £2,700, was opened free of debt in 1875.
A full history of the church by George E. Orr (Published in 1975) is shown on this web site, click on: Lisburn Methodism (Centenary) 1975
Brief history as recorded in a book 'Lisburn's Rich Church Heritage' by John Kelly
The original church (now the CWU Hall) was built in Market Street in 1772. The Rev John Wesley preached there in 1789. Sir Richard Wallace gave a plot of ground and the present church, costing £2,700, was opened in November 1875. The manse was built about 1880 and the Seymour Street National School in 1886. It was replaced by the William Foote Memorial School in 1908. This school was converted to church halls when, in turn, it was replaced by Forthill Primary School in 1965. A pipe organ, a memorial to those from the congregation who had served in the First World War, was installed in the church in 1920. New windows and electric lighting were provided in 1930; electric heating in 1957; the roof re-slated in 1968; and a car park provided in 1970. More recently, a new suite of halls at the rear of the church, was opened in October 2000. The Rev Winston Good, who served as minister of Seymour Street in the 1970s returned as a retired minister and assists the present minister, the Rev Brian Anderson, who was appointed in July 2004.