Evergreens host fundraising concert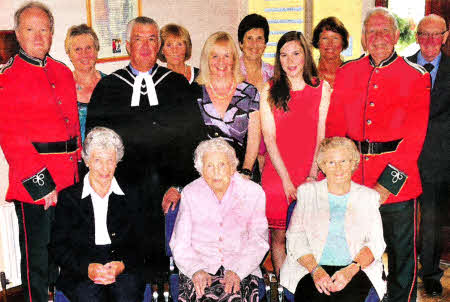 Evergreens and Evergreen Team at Hillsborough Presbyterian Church pictured promoting a forthcoming fundraising concert to be held in the Village Centre, Hillsborough on Saturday 15 September 2012 at 7.30 pm. Included are Rev John Davey, Pat Fanner (Evergreens Leader), Jane McKlbbin (Soloist), Aubrey Campbell, and Jim Young (Balilles Mills Accordion Band).
EVERGREENS at Hillsborough Presbyterian Church are hosting a fundraising concert featuring Baillies Mills Accordion Band in the Village Centre Hillsborough on Saturday September 15 at 7.30pm.
Evergreens is an outreach organisation for anyone who is retired or over the age of sixty.
Members are from Hillsborough and the surrounding area.
They welcome people from all sections and persuasions of the community to join this lively group who enjoy friendship and fellowship. Tickets are available from Church Office (028) 92683502 or Evergreens members.
Proceeds in aid of Project 180, a major new development of Hillsborough Presbyterian Church which includes the refurbishment of the Orr Hall complex and a new suite of rooms between the church and church hall.
The building programme is almost complete and the official opening will take place on the weekend of 22/23 September 2012.
Ulster Star
24/08/2012