Alicia Patterson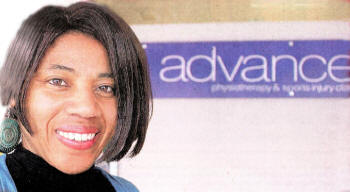 Alicia Patterson
ALICIA Patterson, (Band 7 Chartered Physiotherapist) specialises in Paediatric Physiotherapy and recently set up her own business. She worked at Lagan Valley Hospital and then Warren Children's Centre, for the last 11 years.
Alicia was born in London (1965), grew up in St. Lucia, and returned to London in 1976. She moved to Northern Ireland in 2000 with her husband, where their daughter Davicia was born. Alicia started her own business P. AT. H. S 4 Children (Physiotherapy at Home Service), in 2010 with the help of Lisburn Enterprise Organisation. It was her desire to achieve the right work-life balance, following an extended period of sick leave due to work related stress and anxiety. She also runs unique exercise classes for parents and children called P.A.C.E.S (Parent And Child Exercise Session) and P.R.A.I.S + E (Prayer Relaxation and Inspiring Singing + Exercise). Also she has pioneered "Your Dance" class for ladies.
Alicia had always dreamed of starting my own business, but never had the courage. In 2008, she had a miscarriage which rocked her faith and made her re-evaluate her life. Through her
grieving Alicia felt inspired to write a book to share her experience with women everywhere; 'A Ray of Hope' (Life After Miscarriage - a personal account) which will be published in May.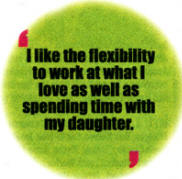 I just love working with children and my classes focus on encouraging fitness, fun and family time.
At the moment I have classes for all ages, on the first and last Saturdays of the month at 11:30am in Kingdom Life Church. I hope to run classes on Monday evenings for children 4+ years, in Oakwood Integrated Primary School, from May.
The classes promote parent and child fitness using nursery rhymes or contemporary music and encourage child development, targeting physical skills (balance and coordination), bonding and social skills, speech and language (attention, concentration and listening skills).
The 'praise' groups also are a great way of combining worship with exercise and has been sampled in Lisburn Christian Fellowship, Place of Victory For All Nations, and soon in a Residential Care home. I plan my business from home and begin every day with a time of worship, singing, praying scripture and dancing. It really helps me to battle stress and be joyful and in my work. I carry out my physiotherapy appointments in the child's home to promote family convenience and optimise treatment outcomes. I also have the pleasure of doing PA.C.E.S. at Mother & Toddler Groups, Women Centres, Family Centres, peoples homes, birthday party venues.
It is lovely being able to suit myself - this is something I was very keen on doing from the start. I wanted to find the right work-life balance; it has been daunting going out on my own, but the experience has been rewarding. Currently I am also working as a Locum ( for our local Health Trust, as a Community Paediatric Physiotherapist, in the Warren Children's Centre. I am also privileged to offer my services to a Physiotherapy practice in 'Lisburn managed by Patricia McCaroll (Advance Physiotherapy), as their service has been expanded to include children's physiotherapy. As you can see there is never a dull moment but I like the flexibility to work at what I love as well as spending time with my daughter. In my spare time I have been busy trying to get my book published. The joy I get from working with the children and their families is brilliant. I'm very thankful to God for the way it's all been going. Email: Alicia.paths@gmail.com for further info.
Ulster Star
04/05/2012