Anna Barron-Moore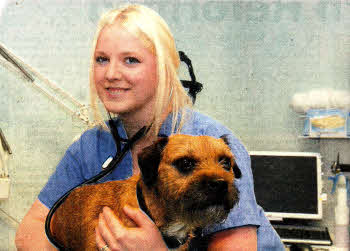 Anna Barron-Moore
ANNA Barron-Moore, 27, Assistant Veterinary Surgeon at Cromlyn House Veterinary Hospital in Hillsborough. She studied Veterinary Science at the University of Bristol, taking an extra year to specialise in Animal Behaviour and Welfare as well as a summer scholarship to Cornell University in New York. She then studied for a Masters degree in Veterinary Medicine at Glasgow University working with the Donkey Sanctuary; Devon before returning to Northern Ireland. Anna is married to Stuart and through her own wedding preparations her jewellery business 'The Handmade Bride' was born.
A typical day usually sees me walking my dog first thing before going to work for 8.30am. I will check on the patients and meet with the nurses to see how the animals have been overnight and what appointments are scheduled for the day.
Two days a week I am in theatre and the other three are spent doing consultations. I am mainly at the hospital in Hillsborough but one morning or afternoon a week might be at the branch practice Pet Vets Healthcare in Lisburn.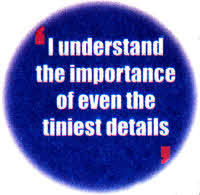 Throughout the day I will be carrying out a full range of veterinary services from advice on the care of a new puppy or kitten through to assisting on an advanced cardiac procedure carried out by one of the specialists surgeons at the hospital. All the nursing, reception and veterinary staff are animal enthusiasts who are dedicated to their care of our patients.
On a surgical day I will examine and anaesthetise my patient, before scrubbing-up and operating, as well as being on hand afterwards as the nurses monitor their recovery.
There always so much going on and I enjoy that buzz. We consult until 7pm in the evenings and I am on call one or two nights a week and every third weekend.
I really enjoy my work as I love animals. There are sad moments but there can be heartwarming stories too. We are very privileged to work in a Tier 3 hospital, one of only three Veterinary hospitals in the country, with a great team of registered veterinary nurses - this really is a luxury. The facilities and patient care are second to none and it is a great working environment. Nursing staff are present on the premises round the clock and if required myself or another veterinary surgeon are available at all times to attend to in-patients and emergencies.
The practice has an ongoing commitment to education and training of all the staff so it really is a great place to work. I have an interest in animal behaviour and feline medicine and working at Cromlyn House gives me the opportunity to expand my knowledge of both. In my spare time I run a jewellery business. I have an A at A level in art and design and had considered going to art college rather than Vet school, I found my own wedding last December the perfect excuse to exercise my creative skills and stitch something more than dogs and cats! I enjoyed the experience so much I set up 'The Handmade Bride' creating beautiful, bespoke hand crafted items and wedding styling for brides.
I understand the importance of even the tiniest details and work personally with each individual bride. It's a nice way to unwind after a busy day in the hospital!
Ulster Star
19/10/2012