Becky Moore
Becky Moore, Vintage Fair Organiser
BECKY Moore is the organiser of the Frock Around The Clock Vintage Fair which will be visiting the City for the first time on September 22 with an extravaganza of vintage treasures for sale and a big helping of timeless glamour, reminiscence and fun. Frock Around The Clock is a Decadence Vintage production. Originally a glamorous boutique selling vintage treasures to the stylish people of Northern Ireland, Enthralled by her visits to vintage fairs in London. Becky was keen to bring a similar vintage shopping experience to the local fashion scene so the idea for Frock Around The Clock was born with the first vintage fair taking place in November 2008. An immediate hit with fashionistas and eco-conscious consumers, Frock Around The Clock placed Northern Ireland well and truly on the vintage fashion map. Not only an outlet for sellers of vintage fashion, Frock Around the Clock quickly evolved to also include vintage homewares and other treasures, as well as recycled creations from local designers. A vintage hair and beauty team, retro entertainment and music sealed the event's reputation for being the most glamorous and fun place to spend a Sunday afternoon shopping in Belfast and beyond.
I work from a studio at my home and one in Belfast too. It is a full time job running the fairs. I spend half my time organising and working ahead of myself and finding new venues and getting suitable exhibitors on board. I am always on the lookout for unusual themes and entertainment including dancers, musicians, hair and beauty stylists with a vintage feel. My fascination with vintage glamour began at a very young age, and later led me to open my own vintage boutique. When it came to choosing a name for my vintage business, Decadence seemed like the natural choice to me as that single word conjured an image of the vintage glamour exuded by the stars of the silver screen.
As demand for nostalgic treasures and fabulous frocks has grown, so has the repertoire of Decadence events; expanding to include a vintage bridal fair, a vintage home and interiors fair, and a vintage bazaar, as well as a series of successful smaller events.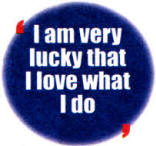 My business expertise and background in the buying and selling of quality vintage goods, and my personal passion for collecting vintage fashion and homewares ensures that my events provide both an enjoyable Fri selling experience for exhibitors and an exciting shopping environment for buyers.
I am proud to have a complete hands-on approach with organising each event down to the very last detail, and careful sourcing and scrutiny of sellers has established a reputation for high quality which is confirmed by people travelling the length and breadth of Ireland to get to our vintage events.
Exhibitors at Decadence events are either vintage dealers who source unique items from across the globe, or local creative designers who produce beautiful handcrafted fashion and jewellery pieces from recycled textiles. Therefore buyers can be confident that they are supporting eco-friendly and local small businesses and creative talent when they shop at a Decadence vintage event.
I am very lucky that I have what I do, and I love that my passion for vintage has allowed others to indulge their passion too. The impressive exhibitor list includes vintage dresses from the 1950s and 1960s and handcrafted jewellery, Frock Around The Clock will take place on Saturday September 22 from 11am to 5pm at Castle House, opposite Castle Gardens, on Castle Street Lisburn, and admission to the event will be free.
More information on the event and the exhibitor list can be found online at https://www.decadencevintagefairs.com/
Ulster Star
21/09/2012