Cathryne Boyes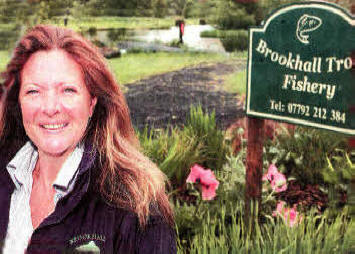 Cathryne Boyes
CATHRYNE Boyes runs Brookhall Fishery near Lisburn with her husband Kenny and is Northern Ireland's first and only professional female fly casting instructor. The Fishery, is one of the most picturesque still water trout fisheries you're ever likely to come across. The 4 acre lake is spring fed from a holy well. Brookhall's lake never runs dry, even in the hottest summer. The lake is well stocked with Rainbows and Steelheads ranging from one and a half pounds to seventeen pounds.
The family took over the business five years ago and have seen it go from strength to strength.
Before I start work I organise myself and get my daughter out to school and gather supplies for the shop. When I do arrive at the lake I have to check it over and make sure everything is ok. This includes making sure water levels are good and the condition of the water is ok too. Water is supplied from rock strata beneath the fishery and therefore comes in at a steady 10 to 11 degrees. This has the effect of buffering temperatures in the lake keeping it cooler in the summer (when many fisheries are fed from warm river water) and reversing the effect in winter - keeping the lakes warmer. The good thing is when the rivers aren't in the best condition for fishing, people
can come to us and avail of our lake.
Next I will set out the nets and if there's anybody in early for a lesson I will set out rods.
This time of the year the grass needs to be regularly cut so you will often see me doing that. I definitely build up muscle in the summer as there's three acres to cut every time. Then I'll empty the bins and clean the toilets. My job is not glamourous that's for sure.
As well as taking bookings from people I also give lessons. I enjoy this aspect of my job. It really is the ideal fishing venue both for individuals and corporate parties, as it provides a welcome escape from the pressures of everyday life.
We want to let people know that anyone can give fly fishing a go. Compared with some sports, the equipment is quite cheap and we have some of the best rivers and lakes in the world to fish. Brookhall is a peaceful place to fish and the surrounding countryside makes it a beautiful place to fish. What makes Brookhall special is the quality of fishing, the beauty of the grounds, and the warm reception that make us a favourite with locals and visitors alike. A typical lesson lasts an hour to and hour and a half. It really depends on what time people have to spare. I will go through the safety aspect of it all and then get started.
Before people come along I will advise them of what clothing and equipment they should bring with them. If it's warm I'll tell them they need a hat, sunglasses and sunscreen and if it is wet I'll tell them to wrap up and bring waterproofs. Safety glasses and caps are available here just in case people do forget though. I will go through setting up the rod and advise on the best ones to use. Then I will show them how to do simple knots. It's like anything - the more time you devote to something the better you will get. I encourage people to practice catching at home. I go through casting and fishing techniques and demonstrate catching and releasing.
As well as instructing I could be advising people what rods to use. It's great seeing people build their confidence up and get better each time they go out. It is a great place to start fishing as you can learn so much. As well as instructing I might be out at fairs promoting the fishery. I was recently at the country fair in Moira and at the end of month I will be going along to the Killyleagh fly fair. In the summer I could be here until 10.30pm and in the winter it would be to about 4.30pm. The hours are long and it's hard work but my family are passionate about it and we are delighted to be able to share our joy of fishing with others.
Ulster Star
22/06/2012