Catriona Evans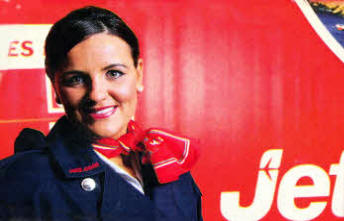 Catriona Evans
CATRIONA Evans from Dunmurry works as senior cabin crew for leisure airline, Jet2.com. The 29 year old lives with her two children Eva, who is four years old and Freya who is two years.
Catriona has been working with the airline since October 2004, six months after it set up base at Belfast International Airport.
My days at work are so varied as you are meeting different customers every day, of all ages and walks of life. One day I could be on a flight to Leeds chatting to business travellers, then it could be a stag or hen party heading off to Ibiza, or honey-moon couples jetting off to our various sun destinations, perhaps on a package holiday. I must admit, the early starts are challenging, especially if I have to be in work for 5.30am for the Palma flight at 1am, so it's important to be well organized. I have great family support and the kids are at daycare for the three days that I am working. The firm is a family friendly airline and appreciate that I had to cut back and work part-time to raise my family, but hopefully when Freya gets a wee bit older I'll be back working a five day week as opposed to a three day week.
All the crew must arrive one and a half hours before check-in. I go through security to airside where
our crew room is and as I am senior air crew it is my role to collect all the paperwork for the flights
that day, get all the team together, introduce myself to flight deck who may be from another Jet2.com base and I haven't met before. I gather all the flight information, for example, passenger figures, any specific passengers requests such as ordering champagne on board, identify if there are any passengers in a wheelchair and need assistance or if any passengers have any health issues, for example, are bringing their own oxygen on board or have had a heart operation.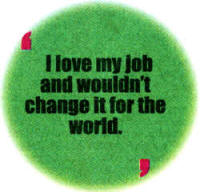 Health and safety is paramount. I ensure that all the crew are tested on their SEP (Safety Emergency Procedures) and discuss passenger profile, the service we'll be doing and how we will manage our day. Then we all go to the aircraft, do a thorough security check in the aircraft, make sure all the emergency equipment is working, that catering is on board and before the passengers start to board I do a quick uniform check to ensure that everybody is well groomed and the ladies are all wearing bright red lipstick.
The ground staff then check that we're all okay for boarding and we position one crew member at the front, one in the middle and one at the back of the aircraft to direct passengers to their seats and assist with bags and babies. When everyone is settled I would demonstrate emergency exit instructions and then let the passengers relax in our new leather seats with extra leg room, serve them some refreshments and be on hand to help them with anything.
During the summer months all the passengers seem to be in great form and their holiday starts as soon as they board the aircraft. Their pre-holiday buzz is contagious and I'm always in good form. After we've landed we get the passengers off quickly and safely, clear the cabin, do another security check, top up the lipstick and do the same routine again with people travelling back into Belfast.
When I get back to base I complete a flight report and highlight any issues of the day which need to be rectified.
There are some things about my job which aren't so good such as early starts and having to deal with aggressive customers who have been delayed, due to circumstances beyond our control, but with the conflict training I learned in head office and our constant refresher training courses, I'm prepared for all eventualities. I love my job and wouldn't change it for the world.
In fact, when I get home my feet rarely touch the ground as then I'm busy being a mummy.
Ulster Star
27/04/2012