Christine Barrett
Christine Barrett
CHRISTINE Barrett runs 'U Create creative cafe in Graham Gardens where customers can have fun creating arts and crafts and enjoy some refreshments at the same time.
Christine is married to James and they have two young children. It was following a visit to a creative studio in London and after doing a training programme in pottery that she fell in love with the art and decided to set up her own business in Lisburn last year.
In the mornings after I have left the children to school I will head to the studio and get myself organised for the first customers coming in. I turn the kiln on and will take out the previous day's clay objects and get them ready for collection. I will go through my diary seeing what is booked in for the day ahead - people can walk in off the street but I would advise larger parties that they book in advance to avoid disappointment.
I set up the tables and get the paper and tiles and colour charts ready as well as mixing the paints. I could be catering for mums and toddlers, birthday parties, hen parties or individuals - it can vary.
Some parents might bring their little ones in to get their hand and footprint impressions taken.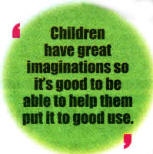 This is a lovely moment and something they will have forever. The parents come in and they choose the item where they want their child's impressions to be placed. This could be a plate, bowl cup for example. The pottery paint is non toxic and the parents can paint the child's name and write what they wanton it. Then it will be glazed and fired and they can come back the next day to collect it.
For the birthday parties I will take a small deposit from the organsier and show them the different packages available and give them a brief of what the studio does. They can choose from small animal tiles, money boxes, trinkets, plates, cups and bowls, for the children to paint. This is really popular. Once the children have finished their work it will also be fired and glazed. They usually spend an hour doing that and then the party food will be supplied. Then once the children leave I will start to clear up and get ready for the next set of customers. The children are normally really quiet when they are concentrating on painting their art work. It really is a relaxing atmosphere and they all seem to really enjoy it.
Children have great imaginations so it's good to be able to help them put it to good use.
Some people will come in and choose to paint designs on T-shirts, aprons and bags and this is something they can take away on that day.
I have to check the stock regularly and look at what needs replenished. People will also ask me to paint one off items for christenings, wedding and birthday presents so when it's quiet I will be found working on these.
As well as the shop work I still do some evening work when I operate the mobile business, so essentially I bring the studio to people's homes.
Jewellery parties are becoming very popular.
I really enjoy being able to share my love of art and craft with others. I'm delighted to be able to provide the studio in Lisburn and really hope more people will come along and see what we have on offer. It really is a fun way of doing something different.
Ulster Star
27/07/2012