Ciara Allen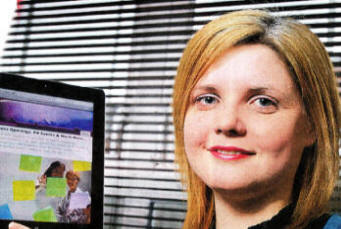 Ciara Allen
CIARA Allen, 27, runs the Inspired Events Co. a business which offers event planning and management services. She lives with her husband in Maghaberry and set up the business last year after following a life-changing illness. Ciara, not being one to sit about all day, decided to use her good organising skills and put them to good use by setting up the events company which is going from strength to strength. As well as this Ciara has used her own experiences to help others by organising charity events - something which she is very passionate about.
THERE is always so much going on each day. How busy I am depends on what events have been booked in. Normally I start the day off from my office in my house checking m, emails and any correspondence from clients I will spend time responding to emails and planning events if I'm not actually out on the ground working behind the scenes or looking at prospective venues.
From creation to logistics, organisation to pragmatics I cover it all. I could be helping with a corporate, business or personal event or presenting various fairs in aid of charity. I am very passionate about supporting those who support the most vulnerable in our society.
I don't believe in little black books. Instead, I have a humungus pink folder full of contacts which range from entertainers, caterers, venues and much more. I am involved right from conception to co-ordination of the event and it will be pitch perfect thanks to my extensive contacts and my wherewithal to get things done quickly and professionally.
I also work with experts in the field of public speaking, confidence building and team dynamics and this all helps when it comes to planning great events. Weddings, christenings, bachelor or bachelorette parties, baby showers, birthdays, leaving do's and engagement parties, I can manage anything. I love helping people plan the perfect party.
Initially my job is to find out what it is exactly that my client would like to me to organise for them. I love the buzz my job provides me - there is always something different in the pipeline. I like organising fairs where local crafters and artists are given a platform to promote themselves. I also love helping charities too as I realise how important this is.
I essentially get a brief from the client and then I will go away and come up with some ideas and present it to them. Once the budget and details have been finalised I get to work organising.
There's a lot of logistics involved so I spend a lot of time emailing companies whose services I require for the event. I then have to confirm the plans to make sure everything goes smoothly on the day. During the events I organise I will usually be in the background making sure it is all going according to plan. I love it when everything comes together smoothly and the clients are happy.
I also have the general running of the business which includes the administration side of things and this can take up a lot of time too but I am really enjoying it all.
When something dramatic occurs, such as falling ill, it puts things into perspective. I have found a job that makes me happy and that is important to me. I can't emphasise how important it really is to keep on going and make opportunities for yourself.
Ulster Star
01/06/2012