Claire Hudson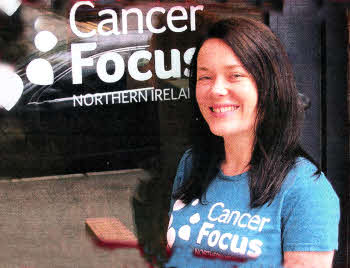 Claire Hudson
Claire Hudson, 33, is a Direct Marketing Officer for local charity Cancer Focus Northern Ireland, the new name for the Ulster Cancer Foundation. Claire, who lives in Culcavy, is a professional marketer. She worked in the private sector as Marketing Account Manager before taking up her current post with Cancer Focus. Claire was motivated to carve out a career within the charity sector after participating in a charity parachute jump and volunteering with a number of local charities.
My job is about maintaining relationships with our donors as well as developing convenient ways for supporters to donate and be kept up-to-date about our work at Cancer Focus. My day-to-day workload can be really varied, ranging from copywriting for websites, publications and leaflets to updating donors about how their donations are being spent, and exploring and developing new communication methods such as mobile text giving services and apps.
At the start of the summer, our charity rebranded and changed its name from the Ulster Cancer
Foundation to Cancer Focus Northern Ireland. A very important aspect of my work has been
to answer questions from our donors about the rebrand and reassure them that the only other change will be to improve and expand, the services we have been providing for the last 40 years, such as support and counselling. As we look to the future, our primary focus will be to continue to help people who have been diagnosed with cancer. 70,000 families are currently living in Northern Ireland with a cancer diagnosis. That is a huge number of people who need our help and support.
I also look after our Forget Me Not Funds, which is a very special and personal way that supporters can remember a loved one and celebrate their life. Family, friends and work colleagues can all donate to the fund in whatever way suits them, from setting up a direct debit to taking part in one
of our many fundraising challenge events. One local eight-year-old girl, whose family benefited
greatly from our Family Support Service, set up a fund in memory of her mummy. She held a hugely successful 'Coffee and Cake' morning for her Forget Me Not Fund. I provided advice and support to help her promote the event which raised thousands of pounds for our Family Support Service. She wanted to help other families get the support they need, just like she did. People's generosity and strength is amazing - it is very humbling helping and supporting people, who even through their grief, are still thinking of what they can do to help others.
Another local lady set up a Forget Me Not Fund in memory of her parents and every month donates through her pay to help support our cancer research projects. A Moira man recently took part in one of our mountain climbing challenges to raise money in memory of his wife who sadly passed away from cancer. He said the support he received from Cancer Focus was tremendous. He has found the Fund a very positive way to remember her and knows she would be very proud.
My job is very rewarding when I hear the positive effects that these funds can have on local families. I get great satisfaction from knowing all the money raised helps us reach more and more people with our vital services and is also invested in cancer research to help future generations.
The majority of our funds come from the general public and local businesses — which we really appreciate. We could not continue to provide and develop our services, research or cancer prevention programmes without this support. . Whether supporters can donate £1 or £100, it is greatly appreciated and your commitment to us is crucial, helping more and more people affected by cancer in Northern Ireland.
I really enjoy working at Cancer Focus and I'm proud to be part of a charity which provides a range of excellent services in schools, workplaces and community settings. You can find out more about our services and our work by clicking on www.cancerfocusni.org or help us raise cancer awareness by liking our facebook page or follow us on twitter @CancerFocusNl
Ulster Star
20/07/2012