Clayre Sloan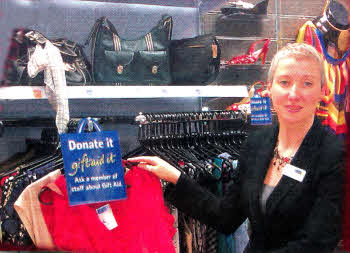 Clayre Sloan
CLAYRE Sloan is Shops Area Manager NI for charity Marie Curie Cancer Care.
After university she pursued a career in retail and six years later a shop development manager role became available with the charity and Clayre progressed to become area manager. 18 shops later she recently received a 15 years service award with the charity.
There are 170 Marie Curie Cancer Care Shops across the UK, employing 2700 volunteers and 475 paid staff including one in Dunmurry and Lisburn. Over 95 per cent of funds raised from the Charity's Shops come from the sales of donated goods and donations of clothing, books, linen, china and toys are always needed.
My day is entirely dependent on how each of the shops are running. If there's a particular issue to be addressed or if a manager needs support I will ensure that they are at the top of my list. I spend a lot of time out and about the province visiting the different shops and about once day a week I will be found at my desk doing administration work or at internal meetings discussing targets and what else is happening locally within the charity.
Each one of our shops relies on a dedicated team of volunteers without whom our shops would not be able to run.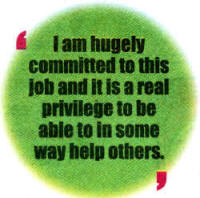 We are reliant on the generosity of local people — either as volunteers, or those who donate to us or shop with us to raise vital funds. All funds raised by our shops will help fund the Marie Curie Hospice, Belfast which provides expert care and the best possible quality of life, for people with terminal cancer and other illnesses and support for their families, completely free of charge.
Unwanted items donated by supporters are the lifeblood of our charity's shops. No matter how small or large your donation - or how much the item cost originally - our staff and volunteers will gratefully receive it and are committed to ensuring we receive the best possible price.
I am involved with the recruitment of managers and volunteers as well as helping the managers
display the stock. It takes 1000 garments to fill our shops so you can see why we need as many donations as possible and why we are encouraging people to stop dumping but instead recycle items and at the same time help a good cause.
I also liaise closely with local businesses encouraging them to ask their staff to donate items which we can sell at the shops, Local firms have been particularly helpful with this.
I also challenge different companies to put their entrepreneurial skills to the test to promote, manage and aim to increase the sales in each shop. The team with the highest percentage sales increase will be announced the winner but the judges will also score the teams on how they have marketed the shop, the number of volunteers recruited and bags of sellable goods donated as well as more creative elements such as window displays.
People can choose from a terrific selection of high quality donated goods at reasonable prices. The shop is specifically a local hospice shop, meaning that all money raised will help fund the Marie Curie Hospice, Belfast which provides nursing care to people with cancer, 365 days a year. The hospice focuses on providing the best possible quality of life for people with cancer and all services are provided free of charge to patients and their families.
I am hugely committed to this job and it is a real privilege to be able to in some way help others. My sister died last year from breast cancer and I know the importance of high quality end of life care and this really encourages me to make the most out of the shops and raise as many funds as possible for such a worthwhile charity.
Ulster Star
03/08/2012