Darren McKinley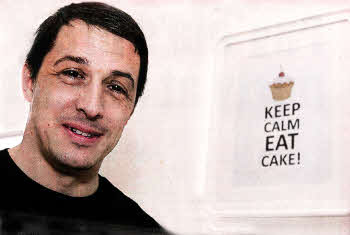 Darren McKinley
Darren McKinley, 40, from Lisburn is a Youth and Community Worker for the Northern Ireland Cancer Fund for Children (NICFC) and has been selected to carry the Olympic torch after being nominated by his sister. Darren has worked for over twenty years in the Youth and Community sector both in a professional and voluntary capacity, so the job at NI Cancer Fund for Children was a natural progression. He is married to Kelly and they have two sons Christian and Jack.
I am up early most mornings and take my youngest son to school. Then I will try and fit a run in as I am training for a couple of marathons. As well as being based in an office in Belfast I spend time at home too before heading out on visits across Northern Ireland.
I work with children and young people aged 8-24 who have cancer as well as their siblings in order to help re-integrate them back into their communities following their cancer diagnosis. I work on
a one-to-one basis with them, doing various activities that they enjoy and providing a listening ear. After five or six meetings, they're normally ready to join NICFC's youth groups where we bring them away for residential trips to our base at Narnia and do lots of fun activities with others of a similar age. These can range from outdoor pursuits to cookery lessons to Duke of Edinburgh and First Aid training and many more.
NICFC has recently implemented a new Ward Support Programme in the Royal Belfast Hospital for Sick .Children which I and a number of colleagues are very involved with. Staff at the hospital approached the charity, having become aware that not only were the young people facing tough treatment, but they were also becoming increasingly bored and isolated due to the lack of social interaction; particularly hi the evenings. So we now visit the ward once a week and spend several hours chatting and listening to any issues the young people have and we organise activities such as artwork, group discussion and interactive games.
Already, we've had great feedback that the programme is having real benefits.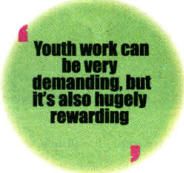 NICFC aims to build awareness of the needs of children and young people living with cancer as well as their families and to bridge the gap where other charities or organisations don't meet. My job is to meet the specific needs of young people - it's not about replicating what the medical professionals do, but more about meeting their psycho-social needs and being there to instill some normality to their lives at time when it's been turned upside down.
Working with young people requires a lot of patience and an understanding of the underlying issues associated with a cancer diagnosis. You must be able to build trust and develop a close rapport with young people and their families and always deliver on what you say you will do. Young people always remember and won't understand if you can't deliver. You also need good time management to keep on top of a busy case load. I recently had the honour of representing NICFC in America after being chosen to go on an AMBIT Study Project organised by NICVA and the US Consulate. The highlight of the trip came when I was invited to attend President Barack Obama's Saint Patrick's Day reception in the White House where I got to meet so many well-known and inspirational people. Youth work can be very demanding and you need to seize opportunities when you can, but it's also hugely rewarding, especially when the young people really appreciate the work that you do. If you can move a child or young person forward in their cancer journey and help them deal with the issues they're facing, then you've done a good job. The nature of cancer means you often see young people at their lowest point, and this can be difficult in terms of trying to build a relationship and instill confidence.
On my days off I enjoy spending time with my family and watching Newcastle Utd play- I try and get over to see them a few times a year. I also enjoy long walks with the dog and running. I've completed the London and Belfast Marathons and hope to do New York next and raise money for charity. For more information about Northern Ireland Cancer Fund for Children please contact info@nicfc.com or visit www.nicfc.com.
Ulster Star
20/04/2012