Emma Jane Lawther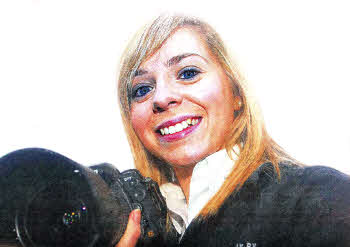 Emma Jane Lawther, photographer
EMMA Jane Lawther, 24, runs Photography by Emma Jane - Northern Ireland's newest, independent mobile photography service offering weddings, portraits, school and commercial photography.
Emma Jane formed the business in 2010. She lives with her husband, Neville in Lower Ballinderry and says she has always had a love of photography. Emma Jane believes the camera is her greatest creative outlet.
If I am working in a school taking photos I could be up as early as 4.45ám sorting out my equipment and getting my car packed.
I could be anywhere in the province so no two days are ever the same. I am really busy with this type of work.
Normally the photography sessions at schools and nurseries start at 8am. I love nothing more than interpreting a client's story through the camera lens. It is vital to me that each image captured
has a story or a meaning to it and that everyone I. work with leaves with their own, little precious treasure trove full of inspiration and images that ultimately reflect (or illustrate) both themselves and their lives.
During my professional career I have had the pleasure of working with hundreds of children and have found that patience and a sense of humour really brings out the best in them.
When I'm finished working in the schools I will then head back to my office where I start the editing process. Then I send proofs to the school to show the parents and if they are happy they go ahead and make an order. When I receive the orders I get to work immediately ensuring a quick turn around of the photographs.
As well as working in schools I also hold portraiture sessions and do wedding photographs too.
T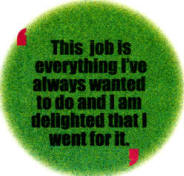 here really is a lot of variety in this job.
I do enjoy taking wedding photographs. Capturing stunning and creative photographs is what
I do and what I love doing. No wedding is the same, each has its own special, individual feel to it, that's where I come in - capturing a unique set of photographs from the loving atmosphere of the day for my clients to look back on for years to come.
Again once I have the shots I will begin to enhance and perfect the images. This usually takes up to 34 weeks after the wedding. I aim to have the images ready to be viewed for soon after the couple's honeymoon.
I could also be out and about providing the full studio experience in people's home. No hassle, no travelling, and free to have as many outfit changes as desired without taking half your wardrobe to a studio. I am also a location photographer who loves working with as much natural lighting as possible. Portraiture is about capturing the personalities of who is involved in the session. With every session I like to talk to the client and build up a mood of what photographic styles they like, what they hope to expect from the shoot and most importantly building up a picture of who they are. Once I have edited the images I invite the clients to view them and let them choose their favourite.
If I'm not out on location I will be delivering orders or editing images in my office. This nature of work is always constant. There's more to photography than just capturing images.
This job is everything I've always wanted to do and I am delighted that I went for it. I knew there was a gap in the market for the service I offer and I am glad I took the plunge. I love my work and not many people can say that.
This job is everything always wants to do and l am delighted that I went for it.
Ulster Star
16/01/2012