Gerard McClelland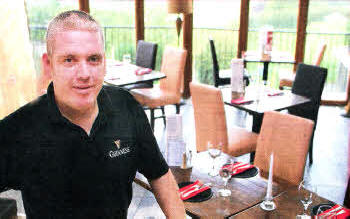 GERARD McClelland
GERARD McClelland is a Function Manager at Temple golf Club near Carryduff where he has worked for over a year.
He lives in Newcastle with his wife Elaine and their children Aaron, 5 and Katelyn three.
Gerard has been involved in the hospitality industry since leaving school and worked his way up into management level for a hotel chain before taking up his current role, which he enjoys very much.
Every day is really different in this line of work. When I arrive at work in the morning I do some paperwork in my office. I could be running the office, making phone calls, tidying up, doing staff rotas, at a staff briefing or planning events. There's always plenty to do and between myself and fellow function manager Keith we get it done smoothly. I am in regular contact with the
co-owners who I liaise with regarding upcoming events and the general running issues of the business. The Golf and Country Club was recently refurbished and has a boutique feel to it. It has great golf and sumptuous food in stylish surroundings and facilities for functions.
Our function room offers space to accommodate up to 150 people and is the perfect venue for weddings, parties, conferences and christenings. Me and the team will be only too happy to help clients plan that special event with tailor made menus to suit their taste and budget.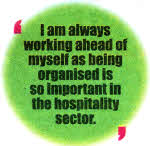 Normally customers contact us to get details on hosting an event at the golf club. I will take down their information and then organise a meeting or phone call with them at their convenience. During the meeting we will discuss the type of event and how many people will have to be catered for. I will come up with a plan and work out the cost and then consult the customer.
The function will be booked and the customer can relax and look forward to their special occasion.
As the event approaches I have to think about details such as the number of staff requires, will the function require round or square tables for example. The menus will be carefully planned after it's decided if it is a buffet style or a sit down meal.
I have to liaise with the catering staff on dietary requirements and the customer's requests. I am always working ahead of myself as being organised is so important in the hospitality sector.
I will then sort out the staff required and will speak to my contacts who can provide extras such as popcorn machines and bouncy castles. It really does just depend on the customer and the type of the event we are hosting.
When the function is taking place myself or Keith will be on hand to make sure it all goes according to plan and that the customer is happy. The thing about my job is that you have to be prepared to jump in and help out in lots of different areas.
I also plan themed nights and this is something I enjoy working on as it gives the customers plenty of variety.
These include country nights. I have to work out cost and this will be reflected in the ticket prices. As well as event planning and the general running of the hospitality side of things, I meet and great the golfers and take dinner and room reservations. It's really been great getting to know people. I enjoy my job and I think having such a good relationship with the staff makes all the difference and this is reflected in our service. We all make a good team.
Ulster Star
17/08/2012