Jenny Monroe talks to flute professional Glen Houston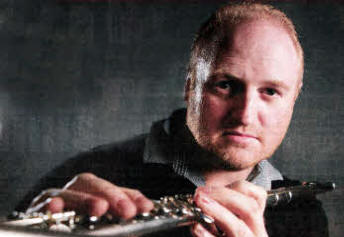 Glen Houston
LOCAL Flute professional and businessman Glen Houston has recently embarked on a great cross community musical venture and formed The Lisburn Flute Orchestra. The group works to bring together all of the greater flute playing community to enjoy making music in fun, vibrant and neutral surroundings. Glen, who grew up in Lisburn and attended both Fort Hill Primary and Wallace High School, now lives in Ballymena with his wife Rhonda and their two children. Coming from a musical family he left Lisburn at the age of 16 to study classical flute in London and pursue a career which has seen him perform alongside Professional Wind Ensembles top UK Orchestras and even our very own Sir James Galway. After some 10 years in London he then moved back to Northern Ireland undertaking a full time role as a flute tutor in may of our Northern Ireland Schools and the SEELB and various conducting positions with a wide range of top ensembles. Presently Glen has formed his own corporate and wedding entertainment business 'Glen Houston Entertainments' which has now become one of Irelands leading suppliers of corporate and wedding entertainment.
I run my management company from an office in my house. I'm not an agent so this means the acts are exclusively with me. The acts are all high end and have to go through auditions before I take them on, we expect nothing but the best.
I take pride in promoting top quality live entertainment at affordable prices and providing a service that is second to none. I could be updating the website which is designed to show just a small selection of acts that are available. Nothing is impossible to book, from a face painter to an after dinner speaker of distinction there's a wide range of acts to suits all tastes and occasions.
I might be sorting out booking forms, organising events, speaking to clients and arranging dates with the acts. There's always lots going on.
Once a month I promote the acts at one of my many Wedding Music Showcases, so this means booking venues around the country and sorting out promotion for the events. These are a great way for people to find out more about the different artists and to see them in person before they book them.
As well as running the entertainment company I also teach the flute at a professional level to key students. I am very passionate about the flute and this is why I set up the Lisburn Flute Orchestra. The flute is arguably one of the most popular musical instruments in Ireland and it often seems a shame that flute playing traditions across the community are not interlinked to form an established
group. The flute orchestra has been set up to break down these barriers and create an exciting new group aimed at developing both group and solo performance. The Lisburn Flute Orchestra will be hosting numerous events over the year to include recitals, concerts, flute workshops with top flute professionals and a range of fundraising activities. The group currently rehearses in the Bridge Community Centre, Cadet Hall, Lisburn from 7:30pm - 9pm on a Wednesday evening. All ages and standards are welcome so I would encourage people to feel free to pop in and join this exciting new venture.
It's nice to put something back into the Lisburn community and it's good meeting old faces. I really enjoy running my entertainment business and being able to share my love of the flute and music with others.
I am very passionate about the flute and this is why I set up the Lisburn Flute Orchestra.
Ulster Star
09/03/2012